July 27, 2020
IT'S BEEN FIVE MONTHS – AN OPEN LETTER TO A/E CEOs 
Dear A/E CEO: This letter is penned by your current and prospective clients, the senior talent you seek to recruit to fill a key position on your executive team, and the presidents of the firms that you want to acquire.
We're five months into this pandemic and I'm considering making a big commitment to you and your firm. I'd like to give your firm MORE work. Or I'd like to work with your firm for the first time. Or I'm thinking of joining your executive team. Or I'm weighing the possibility of selling my A/E business – my life's work – to your firm.
So, I need you to make a good first impression on me. I want to know, like, and trust you so I can give you this big contract. Or so I can take a leap of faith and accept your offer of employment over a counteroffer from my current firm.  Or so that I can choose your company to be the buyer for my firm instead of the ten other firms that I'm considering.
And I realize that in our New Reality that you will need to make that great first impression virtually, since my organization's new policies preclude me from meeting with you in person to discuss a new contract…and current quarantine regulations make it harder for me to fly to your offices for an extended job interview and get-to-know-you dinner with your executive team…and your M&A team cannot easily meet with my team here at our offices due to travel restrictions. We've been at this for five months now, so I assume your virtual game matches your reputation and will give me an indication of how you are approaching this New Reality.
Now let me tell you the four reasons why you blew the opportunity to make a great first impression, and why I'm going to award the contract to your competitor, or stay in my current job, or choose another firm as the buyer of my business. And then let me give you some coaching tips that you definitely need but that you won't get from your internal team because….well, because you're the CEO and they don't know how to approach you about these topics.
First, your basement does not impress me Nor does your dining room, your living room, nor your attic. This might have been cute in the first month of the pandemic – but we're five months in. My organization wants to do business with a firm that is adapting to the New Reality, not one that is stuck in the past. I want to join a firm that exudes professionalism. I will choose to sell my firm to an organization that projects an understanding of the power of branding. New Reality coaching tip #1: Use a virtual background with your firm's brand name or logo for all third-party video calls – even if you're in your office and especially if you're in your wood-paneled basement.
Second, your understated, low-key, monotone, and at times rambling speaking style and mannerisms may convey gravitas or confidence in face-to-face meetings, at a ball game, or over a dinner. But in a virtual format, neither are impressive, engaging, or inspiring. New Reality coaching tip #2: Get feedback on your virtual "presence" from a professional. Learn how to manage the virtual format to emphasize your individual strengths and mitigate your weaknesses. Create a series of bulleted talking points ahead of every third-party call. Rehearse them, stick to them, and repeat them as necessary (to quote Carly Simon "once is never enough") during the call to convey points you want to emphasize. Know your opening and closing messages and nail the landing on both.
Third, while I appreciate that you assembled your team for our virtual meeting, I was confused and disappointed by (a) the fact that two of them didn't speak during the call (and appeared to be distracted), (b) that there was clearly no coordination or preparation done by your team ahead of the call as to their individual roles, (c) one of them took a full 10 minutes to introduce himself – including a full-throated diatribe about his previous firm, (d) why some of the team were in collared shirts and others in tee-shirts, and (e) why one Executive Vice President always had to be told that he was on mute. New Reality coaching tip #3: Make sure each and every team member knows how to effectively introduce him or herself in 90 seconds (bullet points should include experience, current roles and responsibilities, why they are on the call, and what they are looking forward to learning or sharing). Make sure they know what you want them to weigh in on and when. Plan the conversation ahead of time. Instruct your team to log off from email and every other app and platform, and focus on the conversation at hand.  The temptation to multi-task is sky-high in the virtual format because folks believe they cannot be seen doing so. The problem is that it is obvious and it's a turn-off.  You need to set the ground rules for how your team presents. On camera, everything is magnified. Use that to your advantage by remaining focused and looking at the camera at all times. Set the dress code for your team AND for the third party ahead of the call so there is no embarrassment for anyone. And make sure your team is as polished virtually (mute when not speaking, unmute when it's their turn) as they are in person.
Fourth, reading a PowerPoint deck verbatim for 30 minutes was mind-numbing BEFORE this New Reality. In a virtual call, it's the kiss of death to engagement and connectivity. Any meeting – in person or virtually – is, by definition, for a limited amount of time. But those limitations are heightened in the virtual format.  It's your job to make every virtual minute with a third party engaging and valuable. New Reality coaching Tip #4: Approach every virtual call with a third party as a TV production. Your job is to make sure that every minute that you and your team are on screen count in your favor. Make sure there is no wasted time or sub-optimal dialogue or messaging. When running a presentation or deck make sure that you are also on-screen side by side with the deck – not some disembodied voice in the background. Send the deck ahead of time then use it to stimulate an engaging conversation. One-way dialogue is not your friend in the virtual world.
It's been five months, folks. Stop engaging with important third parties like it's 2019. Start engaging in a manner that shows you're going to set the standard and win in this New Reality.
Industry M&A for the first half of the year saw a marked increase in private equity-backed deals. The U.S. 12-month rolling average pace of A/E deals was down 19% as of Friday.
If you have questions about this week's WORD ON THE STREET report or need help planning for or navigating the New Reality, call Mick Morrissey @ 508.380.1868 or send an email to [email protected].
To see last week's WORD ON THE STREET report click here>.
EVOLVING MARKET DRIVERS SHAPING THE NEW REALITY
Powerful and rapidly evolving market drivers will end up massively impacting most sectors the A/E industry serves. Here are just a few examples:
State and municipal funding. State and local government leaders throughout the country are warning of major budget cuts.  Declining revenue combined with unanticipated costs because of the pandemic and requirements to balance annual budgets equates to losses in the hundreds of billions— and deep, long-term spending cuts. As a result, many infrastructure design and construction projects will be delayed or cancelled. With states projecting up to 50% reductions in fuel tax and even greater drops in toll revenue, a proportionate drop in newly awarded projects can be expected. K-12 will likely fare better since its primary funding source is property taxes. In any case, a new infrastructure bill would instantly prop up the sector. But while the House passed a $2 trillion package earlier this month, it will likely meet a quick death in the Senate. And with the presidential election looming in November, a quick resolution doesn't look to be in the cards.
Remote working. A survey of U.S. professionals in early June by Korn Ferry indicated that half were afraid to return to the office. Nearly two-thirds surveyed said they have been more productive at home.  When asked what they were most looking forward to about returning to the office, one in five reported nothing at all. And with many employers eyeballing cost savings and no longer entirely skeptical about the ability of their employees to produce remotely, demand for new office space may never fully recover. The air pocket for this segment could be office remodeling/reconfiguration to accommodate social distancing and sanitation standards made necessary by the pandemic. In addition, demand for data centers and virtual communication infrastructure will increase.
Online Shopping. Shopping was moving online anyway, but the pandemic forced a greater portion of the population to purchase by click. With foot traffic drastically reduced, retail will see few new projects.  Many retail stores, restaurants, and hotels may never resurface. The survivors and thrivers look to be the large boxes, such as Walmart, Amazon, Target, and Dollar General, as they expect to emerge from the crisis stronger and are continuing with their expansion plans.
College & University Enrollment. Colleges and universities still do not have a clear picture of if and when in-person learning will begin in the fall. If in-person classes are delayed or cancelled, the ramifications will be significant. The loss of revenue combined with struggling endowments and shrinking capital budgets will spell hard times for those focused on higher education construction.
Virus Spikes. California, Arizona, Texas, and Florida reported a combined daily total of about 36,000 new coronavirus cases last Wednesday. Los Angeles is on the verge of declaring a shutdown of all but essential businesses as a growing number of school districts in the state make plans to start the fall semester without on-site instruction. In Arizona, the statewide closures of bars and gyms has been extended. In Texas, the hope is the mask mandate of three weeks ago will be enough to avert a shut-down. And in Florida, the hospital system is being stressed with 10,000+ new cases reported every day, though the number has more or less leveled off over the last several days. As long as new cases, hospitalizations, and fatalities remain high, the impact to markets will be more of the same. Healthcare construction, somewhat counterintuitively, will also take a hit since elective surgeries and emergency visits (which generate significant revenue) decline precipitously when virus cases spike.
Vaccine Development. A successful vaccine would have a monumentally positive impact on the efforts to return to economic stability and strength. But a global solution is important from a health and economic perspective. As long as the virus exists, it can mutate and recirculate, and once again, wreak havoc. The good news is that multiple organizations around the world are reporting promising results as they race to deliver a safe and effective vaccine for the masses in the coming months.

+ INTELLIGENCE
Build your knowledge with Morrissey Goodale's leading industry e-publications and also receive The Morrissey Goodale Quarterly.
+ PREMIUM
Stream Morrissey Goodale's NEW REALITY quarterly webinars + Think with the best minds in the industry at Morrissey Goodale's virtual THINK-TANK with top A/E firm principals + INTELLIGENCE publications.
+ ALL ACCESS
An hour of one-on-one consultation per quarter with a Morrissey Goodale senior consultant + 10% off of all Morrissey Goodale events + PREMIUM + INTELLIGENCE publications.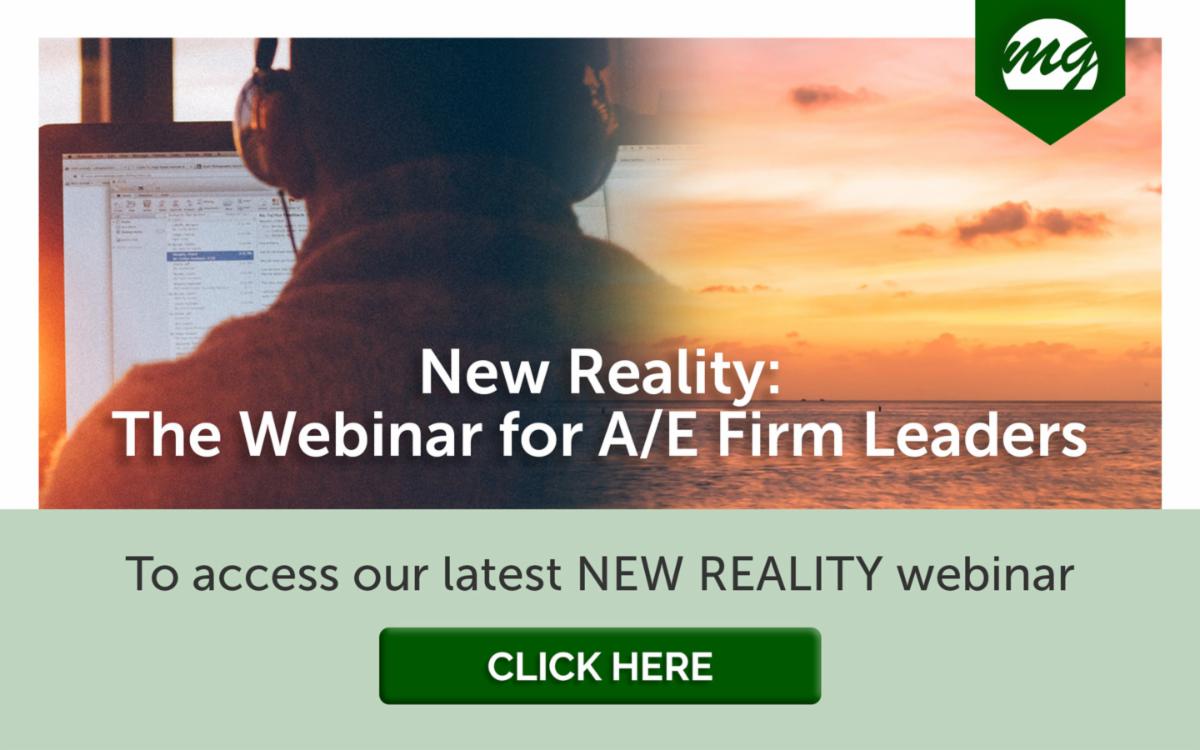 With a Morrissey Goodale PLUS annual PREMIUM or ALL-ACCESS membership you will be able to livestream our quarterly NEW REALITY webinars and have access to other features, such as our quarterly virtual THINK TANK where A/E leaders gather to talk about best practices and preparing for the future.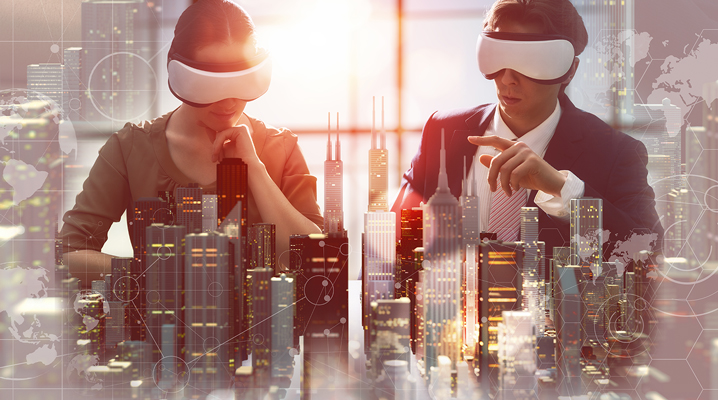 June 9-10, 2021 • VR Event
A unique Virtual Reality event
exclusively for A/E CEOs and presidents.