May 18, 2020
THE TIMES THEY ARE A CHANGIN'
National Industry Insights
Immediate and short-term A/E industry markets CREATED by COVID-19. Think of it – in the last 90 days, the crisis has given rise to new market opportunities for the industry including: (1) FAST repositioning/renovation of facilities to treat COVID patients, (2) logistics and space planning for firms returning to offices from remote working, (3) environmental health & safety re: facility decontamination (4) renovation/repositioning of storage facilities for surplus oil, and (5) risk management consulting for workforces returning to the office.
The crisis has also accelerated demand for "non-traditional services". Firms that understand and can deploy/offer virtual reality (VR), augmented reality (AR), digital transformation, big data, and remote monitoring and sensing solutions are seeing strong demand curves for their offerings.
What types of A/E firms are accessing these markets and opportunities? The "strategic thinkers" – that pushed themselves to see the industry for where it was headed. The firms that invested in systems and technologies during the good times. The firms that listened to their clients and their "next-generation" leaders. The firms that possess the agility to adapt to market changes and reposition their business. The firms that can collaborate with contractors and vendors. The risk-takers.
Beyond the short-term, the pandemic sets the table for massive industry change. As firms continue to burn through backlog and leadership teams look for clues about how to be successful post-pandemic, some patterns are easier to see than others.
Every sector of the buildings and infrastructure environment will change. The design and operations of every building type – from healthcare to education to workplace to entertainment will be impacted. Infrastructure will be reimagined. A/E firms with sector expertise that are prepared to contribute to part of the change will be rewarded. Generalists will be further marginalized.
How the A/E industry "works" will change for ever. Significantly more design and environmental professionals and technical staff will work remotely some or all of the time. Most new hires will be recruited and onboarded without ever visiting an office. (It's happening already!) Office expenses will be slashed. Internal overhead travel will be cut. These dollars will be reallocated to investments in collaborative technologies, human capital development (there will be an even greater emphasis on engagement, communication and performance), branding, and digital marketing.
The new reality will see winners and losers. To thrive in this new reality, firms must EXCEL in the following four arenas (1) sustaining a culture of continuous improvement, (2) delivering digital and VR/AR solutions, (3) strengthening client and employee relationships in an increasingly remote and digitized environment, and (D) collaborating with vendors and contractors. Currently, most A/E firms do not have the organizational or capital models in place now to successfully navigate the post-pandemic world. There will be significant, dramatic, and fast change ahead for each and every industry professional.
Skeptical about a digital future for the industry? Take a tour through the websites of the largest industry firms and see how many have an executive reporting directly to the CEO with some variation of the title "Chief Digital/Technology Officer". Also, as we have been highlighting in our M&A Symposiums over the years, the larger industry firms have been transforming themselves into technology and systems providers through non-traditional acquisitions.
Public Works markets holding up well. From South Florida to Maine and from Maryland to Oregon, public works markets in general remain solid. For the most part, backlog on the books is holding. And in many states, firms are reporting new work is still being bid and won. But everyone is trying to figure out the capital budget pain ahead for states and municipalities, and when it will begin to show up in the AE industry.
Other markets not so much. There is much pain being experienced by design firms serving the hospitality, retail, and entertainment sectors. Another sector being challenged is the religious market. With houses of worship of all faiths deemed non-essential, capital investments are being put on hold or scrapped; congregations are financially strapped.
The "We are one unified firm" mantra is being challenged – again. This is particularly the case for those EA firms that have a robust public works horizontal infrastructure business (transportation, water) and a buildings or facilities business that has exposure to retail, hospitality, and/or entertainment. In most cases, the horizontal business is thriving, but the vertical business has stopped. After the PPP loans run out there will be some hard staffing choices to make as demand is not likely to return in the short term.
Industry consolidation has slowed. Year-over-year the pace of A/E M&A is down 11%. Click here> As the pandemic hit, M&A cratered in March and April, as many buyers hit the pause button and deals fell back to levels not seen since 2013.
But deals have bounced back in May. U.S. design firm sales in May are right on pace with 2019. As buyers and sellers are gaining more transparency on the market, they are feeling more confident about moving forward.
Deal meetings by video becoming the norm. Buyers have moved quickly and smoothly to screening M&A candidates and planning/implementing operational and cultural integration via Zoom (or pick your favorite video platform).
PPP loans puzzling buyers. The popular CARES act loan is providing an additional level of complexity for buyers in terms of financial assessment and legal documentation.
Was your PPP loan below $2 million? For the many design firms that received PPP loans below $2 million, this week's guidance from the SBA provided some welcome transparency.
If you're in the $2 million plus PPP loan club: Make sure you have good counsel and financial advisors, particularly if you're considering a firm sale any time soon. The sugar high of the cash infusion may not be worth it in the longer term.
The pandemic has changed how deals get done in the industry. The M&A landscape is in flux and questions abound. To get the answers to those questions – whether you're a buyer, seller or industry investor – join us for our special livestream U.S. A/E M&A Symposium: Deal-making in turbulent times on June 11.
We were saddened to learn this week of the passing of Jaquelin "Jaque" Taylor – architect and urbanist. His was a life well-lived to the fullest.
If you have questions about this week's "Word on the Street", need help navigating the new reality brought about by the crisis, or positioning for the future, call or email Mick Morrissey @ 508.380.1868 or [email protected].
To see last week's report click here>.
STATUS OF STATE REOPENINGS
According to state government web sites and local and national news outlets, below is the latest on the reopening status of all 50 US states and coronavirus cases before, during, and after stay-at-home orders:
Alabama
Non-work gatherings of any size will be allowed, as long as people maintain 6 feet of distancing, including houses of worship. Gyms, athletic facilities, barber shops, hair salons, nail salons can reopen, with certain rules. Restaurants, bars, and breweries may allow on-property consumption of food and drink, again, with certain rules. Certain entertainment venues like theaters, casinos, bowling alleys, and night clubs remain closed.

Alaska
Personal services businesses and restaurants in most parts of Alaska have been open since April 24 with restrictions. Dine-in restaurants are restricted to 50% capacity. Bars and indoor fitness classes will be able to reopen at 25% of capacity. Religious gatherings will be allowed, but limited to 50 people.

Arizona
Gyms, spas, and community swimming pools were allowed to open last Wednesday, and professional sports leagues are now allowed to begin practicing in Arizona after the state's current stay-at-home order expired Friday. Movie theaters were allowed to open Saturday.

Arkansas
Gyms, fitness centers, and indoor athletic facilities resumed operations May 4 while barbershops and hair salons opened May 6. Restaurants will be allowed to open dine-in service at one-third capacity with an eye on two-thirds capacity if the state continues to see a downward trend of coronavirus cases.

California
Restaurants and shopping malls are expected reopen soon in counties that meet specific state standards for testing and case reduction. All businesses are to abide by state guidelines for physical distancing and cleaning procedures.
Colorado
The state's "safer at home" remains in effect until May 27. Retail businesses have been allowed to reopen with curbside delivery and elective medical procedures have been green-lighted along with non-essential office work. A decision on restaurant re-openings is expected May 25.

Connecticut
Connecticut's mandatory shutdown remains in place until May 20. Summer camps can open on June 29 with limitations and the hope is to reopen for summer schools in July. Gov. Ned Lamont hopes to re-open a number of industries on May 20, including outdoor-only restaurants, outdoor zoos and museums, university research program, and a variety of retail operations.

Delaware
Gov. John Carney extended Delaware's state of emergency to May 31, while targeting June 1 for the first phase of reopening the state's economy.
District of Columbia
Washington, DC's stay-at-home order has been extended through June 8.

Florida
Broward, Miami-Dade, and Palm Beach counties will join the rest of the state as they open today. Beaches in these counties, however, will remain closed.

Georgia
Restaurants, movie theaters, gyms and fitness centers, bowling alleys, and a variety of personal services businesses are open with certain social distancing and health screening rules in place. Bars, night clubs and music venues remain closed. The shelter in place order for high-risk individuals remains in place through June 12.

Hawaii
A number of businesses are now open, including retail and a variety of personal services. Elective surgery is also allowed. All businesses are expected to maintain social distancing. Beaches are open for limited use. The state is continuing to discourage visitors. Anyone arriving from out of state is required to quarantine for 14 days upon entry.

Idaho
Bars, gyms, and theaters remain closed, likely until summer, but restaurants can continue carryout service. The second phase will allow in-house dining and personal services businesses to open, but the limit of fewer than 10 people would remain in effect.
Illinois
The state's current stay-at-home order extends through the end of May. Residents can, however, leave their homes for activities deemed essential, such as buying necessary supplies and services, health-related activities, care-taking of others, and religious worship. State parks, golf courses, retail stores, and garden centers are beginning to open with restrictions. Non-urgent surgeries are now allowed to be performed, as well. More businesses, such as manufacturing and personal services aren't expected to open any earlier than the end of May.

Indiana
Restrictions on essential travel have been eased and social gatherings of up to 25 people are allowed. State government offices have been opened with limitations on public access. Retail and commercial businesses can open at 50% capacity. Shopping malls are also allowed to open with capacity restrictions of 25% in common areas. Starting today restaurants and bars that serve food are allowed to open at 50% capacity. Personal services business can accept customers by appointment only.

Iowa
All 99 counties are now open for business. Businesses that serve the public will be allowed to operate at 50% capacity. Bars, casinos, and theaters must remain closed until May 27.

Kansas
A range of businesses, such as fitness centers, malls, and retail stores are allowed to be open at 50% capacity. Other businesses such as drive-in movie theaters, campgrounds, and medical spas are allowed to partially open. Childcare facilities are now open, as well. However, entertainment venues, such as bars, night clubs, and bowling alleys will remain closed until at least June 1 and summer camps, fairs, and festivals will not be allowed until at least June 15.

Kentucky
Manufacturing, construction, and car dealerships are allowed to open, as well as professional service companies at 50% capacity. Various surgeries are also now allowed. On May 20, retail and houses of worship will be allowed to reopen. On May 22, restaurants will be allowed to open at one-third capacity. Personal services businesses such as barber shops and hair salons will be allowed to reopen. Movie theaters and fitness centers will reopen on June 1, campgrounds will reopen on June 11, and childcare services will resume at a reduced capacity starting June 15. Bars may reopen and gatherings of up to 50 people may be allowed in July.

Louisiana
Louisiana's stay at home order expired Friday. A wide variety of businesses are now open at 25% capacity.

Maine
Maine's stay-at-home order remains in place through May 31. Some businesses, such as barber shops and hair salons, auto dealerships and drive-in religious services are open. The 14-day quarantine of people entering or returning to Maine will continue through at least August.

Maryland
Maryland's stay-at-home order lifted May 15 and was replaced by a new health advisory. Retail stores are allowed to open at50% capacity, manufacturing operations can start up again, barber shops and hair salons can open at 50% capacity and by appointment only, and houses of worship can open at 50% capacity.

Massachusetts
Gov. Charlie Baker is expected to announce more details today on a phased approach to opening Massachusetts. These phases may include "start, cautious, vigilant" and "new normal."

Michigan
Retail is expected to be in the next wave of openings following the expiration of Michigan's stay-at-home order on May 28. The big three auto suppliers will open for work today at 25% capacity. Currently, manufacturing businesses are allowed to reopen. Outdoor activities such as golf and boating are allowed. Landscaping and nursery businesses are also allowed to operate, assuming adherence to social-distancing rules. Garden centers certain departments selling carpentry-related goods in large retail businesses are open, as well. State parks remain open.

Minnesota
The state's stay-at-home order expired yesterday. Retail businesses are allowed to open at 50 percent capacity while bars, restaurants, and salons will remain closed until June.

Mississippi
The new executive order allows local entities to decide curfews on parks, lifts curfews on restaurants that don't serve alcohol, and lifts the ban on fishing tournaments. Casinos will open on May 21, with restrictions.

Missouri
All businesses are allowed to open as long as social distancing rules are followed. Retail businesses are limited to 25% capacity.

Montana
Retail businesses are allowed open with limits to capacity and adherence to social distancing rules. Restaurants and bars are allowed to reopen with certain restrictions. Movie theaters and gyms remain closed. Out-of-state visitors and residents returning from another state or country are required to quarantine for 14 days.

Nebraska
Restaurants are allowed open with a 50% capacity limit. Personal services businesses, such as salons, are limited to ten people at a time. Houses of worship are allowed to open, assuming adherence to social distancing rules. Bars and theaters in most of the state will remain closed through the end of May. youth baseball and softball teams can begin practice under new guidelines starting June 1, with games slated to resume June 18.

Nevada
Restaurants are allowed to open for dine-in services, assuming adherence to social distancing rules. Most personal services businesses, such as salons, are allowed to open by reservation only. Retail businesses are limited to 50% capacity. Casinos, bars, and bowling alleys remain closed.

New Hampshire
New Hampshire's stay-at-home order remains in effect until the end of May. Elective surgeries have resumed, and today, barber shops and hair salons may accept customers by reservation and a 10-person limit in the establishment is followed. Retail also opens today at 50% capacity. Restaurants will be allowed to offer outdoor seating starting today.

New Jersey
New Jersey's stay-at-home order issues on March 21 remains in effect with no definitive end date, but is expected to last through at least June 5. State parks, golf courses, and county parks are open.

New Mexico
The state's stay-at-home order has been extended to May 31, but most businesses in the state, with the exception of three counties that are currently hotspots for the Coronavirus, were allowed to reopen Saturday at 25% capacity. The order excludes salons, gyms, malls, and dine-in service at restaurants.
New York
New York conducted a limited reopening in five regions on Friday. The reopening was limited to partial construction, manufacturing, and curbside retail.

North Carolina
Retail stores are allowed to open at 50% capacity. Childcare facilities are open and gatherings of up to 10 people are allowed outdoors. State parks and trails are open.

North Dakota
Many businesses are open, including bars and restaurants, recreational facilities, health clubs and athletic facilities, and salons, assuming adherence to social distancing rules. Movie theaters are open at 20% capacity. Campgrounds are also open. Summer school classes and certain summer programs will be allowed in school buildings beginning June 1.

Ohio
Ohio's stay-at-home order remains in effect until May 29. Restaurants and bars with outdoor seating, hair and nail salons, barbershops, day spas, and tanning salons are allowed to open. Indoor restaurants, gyms and other businesses will be allowed to reopen May 21.

Oklahoma
Restaurants, dining rooms, movie theaters, sporting venues and gyms have been allowed to reopen assuming adherence to social distancing, hygiene, and sanitary protocols. Personal care businesses are allowed to service customers by appointment. Bars remain closed.

Oregon
On Friday, retail stores statewide were allowed to open . The state's most populous areas are still under the stay-at-home order.

Pennsylvania
Pennsylvania has begun implementing a three-phase, color-coded approach to re-opening the state. Thirty of the state's counties are still in the "Red" phase, which means stay-at-home orders will remain in place through June 4, though that order may be lifted earlier. The stay-at-home home order and other restrictions have eased in two dozen counties. Those counties have now gone "yellow". No counties have yet been cleared to enter the "green" phase, when restaurants and bars can resume dine-in service, casinos can reopen, and most other restrictions and bans are lifted. More than a dozen counties are expected to be shut down until June.

Rhode Island
Non-essential retail stores have been allowed to reopen with tight restrictions. In "Phase 2", expected to start in about a week and a half, more businesses will be reopened and restrictions will be more relaxed. Phase 2 may also include opening the state beaches, making more childcare options available, and increasing the size limits on social gatherings.

South Carolina
Today, personal service providers, fitness and exercise centers, commercial gyms, and public or commercial pools will be allowed to open in a limited capacity. Retail and department stores are allowed to be open at 20% capacity. Beaches are allowed to be open, but access is still determined by local governments.
South Dakota
While Gov. Kristi L. Noem did not issue a stay-at-home order, she reports many of the state's citizens have voluntarily stayed at home. She announced a "back to normal" plan with guidelines for businesses to reopen if the surrounding area had seen a downward trend in cases for 14 days.

Tennessee
Tennessee's stay-at-home order expires May 30. Restaurants, retailers, and gyms have been allowed to reopen in most counties in the state.

Texas
Today, gyms and exercise facilities, non-essential manufacturing, and business offices will be allowed to reopen at 25% capacity. All retail stores, restaurants, movie theaters, malls, museums, and libraries are allowed to reopen at 25% capacity. Salons are also allowed open assuming adherence to social distancing rules.

Utah
Utah has not issued a stay-at-home order. Restaurants are allowed to offer dine-in services assuming adherence to social distancing and health check rules, but encourages takeout and delivery services. Similarly, gyms are allowed to be open but the state recommends they stay closed. Personal services businesses, such as salons, are allowed to reopen assuming adherence to social distancing rules.

Vermont
Gov. Phil Scott extended the state's emergency order to June 15. He amended his "Stay Home, Stay Safe" policy to "Stay Smart, Stay Safe." This distinction allows for the reopening of businesses including private campgrounds, marinas, and lodging facilities. Hotels, B&Bs, and campgrounds can start taking reservations and can open on May 22nd with restrictions. Questions surrounding how required self-quarantine rules will work for out-of-state visitors and those returning to the state remain.

Virginia
Most of Virginia started its first phase of reopening on Friday. Salons can open by appointment and restaurants and bars can allow outdoor dining. The measure excludes northern Virginia, near Washington, D.C., which is expected to be shuttered until at least May 28.

Washington
Currently, Washington is in Phase 1 of its plan, which includes the opening of some state parks for day use and eased restrictions on outdoor recreation activities, such as fishing, hunting and golf. Businesses that are allowed to open in this phase include existing construction, landscaping, automobile sales, and curbside pickup at retail stores. Phase 2, gatherings of five or fewer people can resume. Businesses that can reopen include hair and nail salons, barbers, restaurants at no more than 50% capacity, in-store retail purchases, real estate, and professional services. Two subsequent phases are included in the state's reopening strategy.

West Virginia
While West Virginia's stay-at-home order was lifted, a subsequent order encourages people to stay at home but doesn't require it. Certain health care-related businesses, such as pharmacies, chiropractors, and dentists, are allowed to reopen. Small businesses with 10 or fewer people are now reopening as well as personal care businesses, such as salons and barber shops. Wellness centers and drive-in movies are allowed to open. Gyms and fitness centers will be allowed to open today.

Wisconsin
The state Supreme Court struck down Gov. Tony Evers' stay-at-home order, which was scheduled to expire May 26. Restaurants, salons, and spas are opening and people are allowed to attend religious services in person.

Wyoming
Bars and restaurants opened on Friday. Gyms and personal services businesses are also allowed to be open with certain restrictions.

Source for COVID 19 case charts: New York Times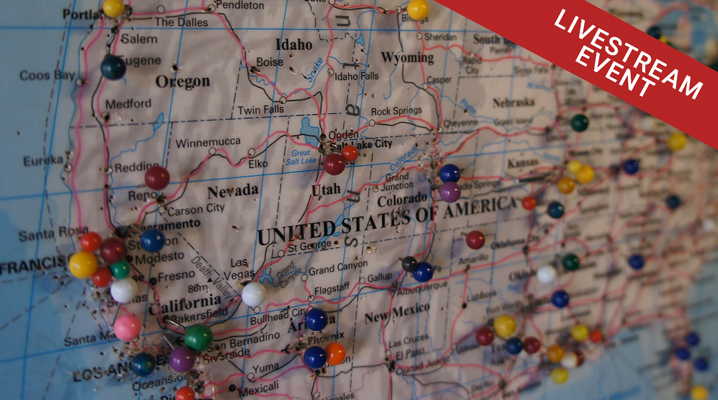 June 11, 2020 • Livestream Event
Deal-making in turbulent times:
For AE and environmental buyers, sellers and investors navigating the new normal.
New Reality
Business Planning Services
Navigate today. Thrive tomorrow.
Morrissey Goodale exists to help your A/E business survive and thrive, whether it's navigating today's tumultuous change, setting the table for future success, or both.