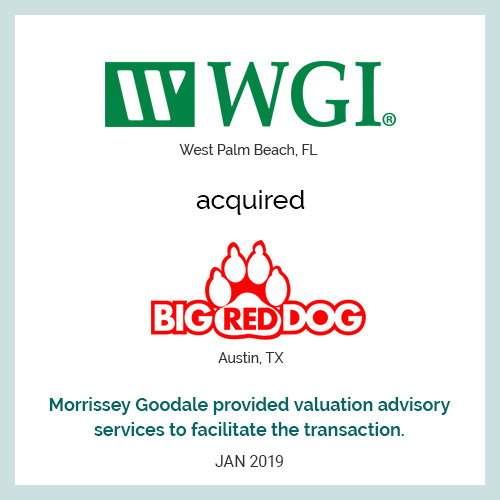 National design firm WGI is pleased to announce it acquired Texas-based BIG RED DOG, INC. (BRD), a firm with a reputation in the industry for intelligent disruption, and a leading provider of civil, MEP, structural, traffic, and transportation engineering for public and private clients. It's not just another merger or acquisition. The fastest-growing Florida-headquartered firm and the fastest-growing firm in Texas will now operate as a single entity, creating exhilarating future opportunities.
With nearly 600 professionals in 18 offices spread across Florida, Michigan, Illinois, Indiana, North Carolina, and Texas, WGI has its sights set on affirming its national trademark: Tomorrow's Technology Today.  WGI invests in the cutting-edge efficiencies and solutions that forward-thinking clients demand. The combination of industry veterans with decades of experience and an ambitious group of youthful visionaries will further grab the market's attention. Together, their combined talents enhance both firms' market leadership and progressive status – delivering revolutionary, resilient, and sustainable infrastructure in smart, connected communities.
The deal closed January 1, 2019 according to Michael L. Davis, senior vice president and chief strategy officer of WGI. Read more> 
Morrissey Goodale provided valuation advisory services to facilitate the transaction.