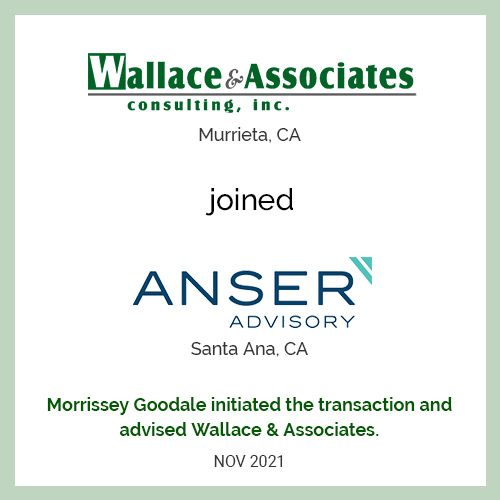 Natick, MA (November, 17 2021) – Wallace & Associates Consulting, a 37-person public infrastructure construction management firm serving water resources, transportation, and municipal markets, has joined Anser Advisory, a firm that specializes in capital program advisory and consulting services, organization preparedness, strategy, funding, process development, program controls and project, program, and agency construction management.
"We are merging with the Anser organization to increase collaboration while expanding opportunities for our staff and leveraging our capabilities beyond Florida." Carl Wallace, President of Wallace & Associates, added, "Our organization is a perfect complementary fit with the Anser California team where we have already identified opportunities for our staff to grow their responsibilities within Anser and added new clients which are best served through the joint capabilities of Anser and Wallace."
Morrissey Goodale, a specialized management consulting and research firm exclusively serving the architecture, engineering, and environmental consulting industries, acted as Financial and M&A Advisor on behalf of Wallace & Associates. Nick Belitz, Principal at Morrissey Goodale, served as the firm's lead advisor.
About Morrissey Goodale:

Morrissey Goodale has helped hundreds of clients transform and grow their architecture, engineering, and environmental consulting companies into high-level performers through strategic business planning, mergers and acquisition advisory, marketing and business development, executive search and human resources, leadership development, and business valuation and financial advisory services. Morrissey Goodale's team of M&A consultants assist throughout the M&A process, from preparing firms for a transaction to a successful integration. Morrissey Goodale's extensive network of relationships with AEC industry decision-makers around the globe uniquely qualifies the firm to identify the right buyers or sellers and guide AE firms through the complex merger or acquisition process, from conception to close.
For more information, visit www.morrisseygoodale.com or call 508-650-0040, or email [email protected].