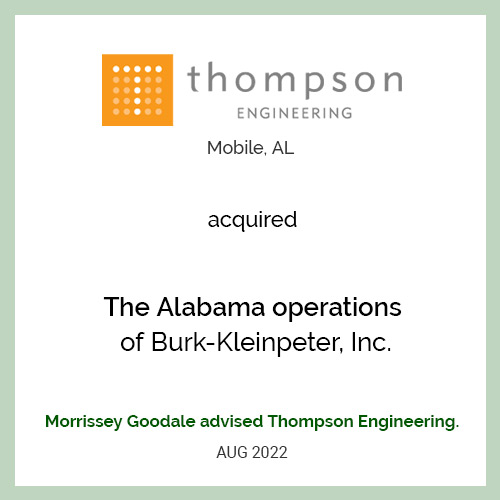 Thompson Engineering, a multi-disciplined engineering firm with offices in eight Southeastern states, announced the acquisition of Burk-Kleinpeter, Inc.'s (BKI) Alabama operations. The acquisition is an important step in Thompson Engineering's plan to expand services across the Southeast. It further strengthens Thompson Engineering's capabilities in municipal infrastructure, site development, roadway/bridge design, and construction engineering & inspection services.
"We're excited to welcome a talented group of engineering professionals and construction inspectors to our team," said John Baker, Thompson Engineering CEO. "This acquisition furthers Thompson Engineering's reputation as the go-to firm for transportation and civil infrastructure design and construction solutions. We're equally excited about the expansion of our geotechnical, environmental, building envelope, and structural services into a new region in Alabama." The acquisition includes an office in Tuscaloosa with 12 employees. The acquisition does not include BKI's Louisiana operations.
"Burk-Kleinpeter, Inc. is currently going through a transition to strengthen our Louisiana operations. This strategic acquisition ensures that our faithful employees in Alabama will be able to continue to provide the same high level of services that our clients have come to expect," said BKI President Michael Chopin. "We are excited for the staff making this transition and the opportunities that lie ahead for them."
Morrissey Goodale LLC advised Thompson Engineering in the transaction.