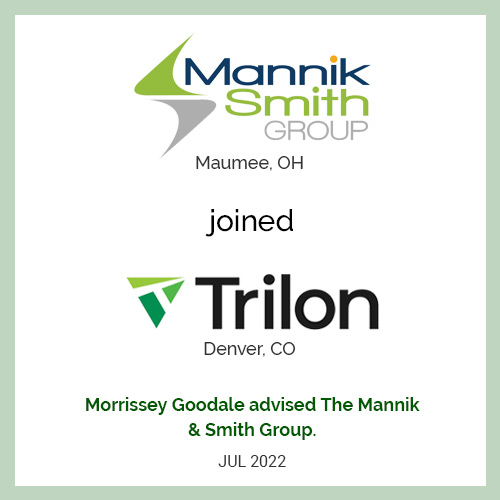 The Mannik & Smith Group (MSG) announced a strategic partnership with Trilon Group, a family of infrastructure consulting businesses. The partnership will allow MSG to expand its offerings and better serve its clients by providing additional capital and resources.
Founded in 1955, MSG has a proud 65+ year history of delivering consulting solutions to governmental agencies, municipalities, and private entities across North America. MSG's long-term strategic vision for growth includes expansion in its existing markets and broadening into complementary markets and geographies. MSG's leadership constantly searches for opportunities to innovate and collaborate in order to benefit its clients and create opportunities for its staff to grow their careers.
"This partnership will accelerate the execution of our strategic plan by investing in our people, growing through M&A, and collaborating on new approaches to better serve our clients. We foresee substantial benefits to our employees and clients as we expand our capabilities and service offerings," MSG's CEO Dean Niese said. "Over the past year, our leadership team carefully considered many options and partners that could help us accelerate our Strategic Plan. Most important, we looked for a partner that fits with our culture and values and provides access to capital resources. We are extremely happy to have found that partner in Trilon."
Within Trilon, MSG will lead the Midwest Platform with a focus on Environment, Transportation, Water, and Community Infrastructure markets. Under the leadership of its current management team, MSG will continue operating as an independent brand within Trilon.
Morrissey Goodale advised The Mannik & Smith Group in the transaction.