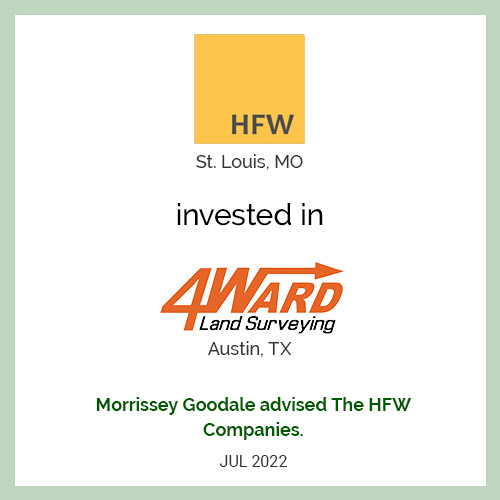 The HFW Companies, a fast-growing professional services firm with a national focus on the AE industry, announced a strategic partnership with 4Ward Land Surveying, a professional land surveying company with experience in commercial, residential, and public works projects throughout Texas.
The new partnership allows 4Ward to accelerate its strategic growth plan and expand its geographic reach beyond Texas with additional services, locations, and people, according to Jason Ward, RPLS, president of 4Ward.
"4Ward is experiencing incredible growth," said Ward. "Our partnership with HFW gives us the boost we need to achieve our plan faster and with greater opportunity for our hard-working team. We are excited to join forces with HFW and its architecture and engineering brands network."
4Ward joins HFW's network of growth-oriented AE firms that share best practices, economies of scale, and unique areas of expertise, according to Michael Hein, AIA, chief executive officer of St. Louis-based HFW. "Jason and the 4Ward team bring expert knowledge and experience, driven by the latest technology found in the survey industry."
Morrissey Goodale LLC advised HFW on the transaction.