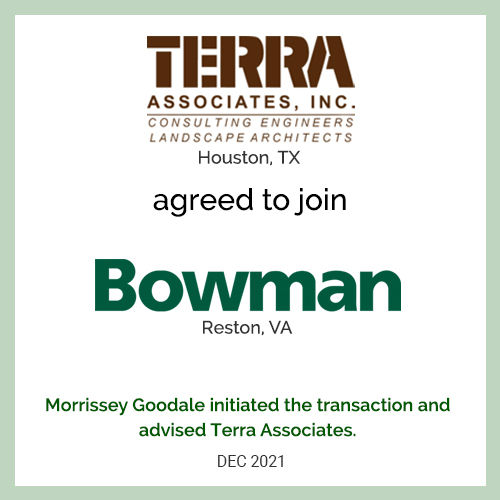 Bowman Consulting Group, announced it had entered into a definitive purchase agreement for the acquisition of Terra Associates, Inc. Closing is scheduled to occur on December 31, 2021, subject to customary closing conditions. Headquartered in Houston, Texas, Terra delivers civil design and engineering solutions to clients focused on traffic and transportation planning, water-wastewater solutions, landscape and irrigation systems, office and industrial facilities, and multi-family development. Under the continuing leadership of Vickie Henkel, Terra's staff of 30+ professionals work from offices in Houston and San Antonio for both public and private sector clients. In connection with their water-wastewater practice, Terra serves in the role of District Engineer for several Texas-based Municipal Utility Districts (MUDs).
"Choosing to join Bowman was an easy decision," said Vickie Henkel, CEO of Terra. "Bowman's approach to growth is very exciting to all of us at Terra. We've gotten to know the leadership at Bowman over the course of the acquisition process and we all feel very comfortable with the decision. Their commitment to helping our leadership and staff grow without changing the core of who we are is a big part of what makes us excited about this opportunity. The opportunity to be a part of an entrepreneurial public company is both exciting and energizing. We are all looking forward to the future as a Bowman company."
Morrissey Goodale initiated the transaction and advised Terra Associates.