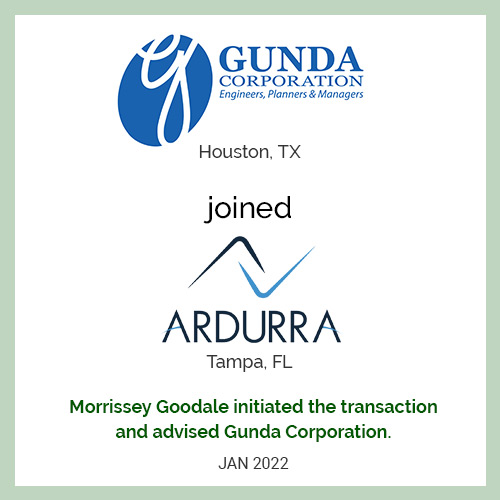 Natick, MA (January 4, 2022) – Gunda Corporation (Gunda), a transportation and public works civil engineering firm based in Houston, TX, has joined Ardurra Group. Gunda will operate as Gunda Corporation, an Ardurra Group Company, from its offices in Texas and will operate as a platform for transportation engineering services in the central U.S.
Founder and President of Gunda, Ramesh Gunda, commented, "We are extremely happy to join the Ardurra family as the next step of our company's evolution and growth. Our team members, clients, and community have always been our priorities and we believe they will all benefit tremendously from this partnership with Ardurra, its national presence, and the care we share for the people and communities we serve."
Rajesh Tanwani, Senior Vice President of Gunda said, "We are excited about the opportunity to step up to the national stage to help clients meet their needs, especially with respect to our successful transportation, Intelligent Transportation Systems, and Smart Cities practices."
Ardurra's President & CEO, Ernesto Aguilar, explained, "We are excited to partner with Gunda in entering the Texas transportation market. We feel we have found a great partner who shares a similar culture, market strategy and strong focus on client service. We look forward to continuing to build a special company with Gunda."
Morrissey Goodale, a specialized management consulting and research firm exclusively serving the architecture, engineering, and environmental consulting industries, acted as Financial and M&A Advisor on behalf of Gunda Corporation. Brendon Cussio, Principal Consultant at Morrissey Goodale, served as the firm's lead advisor.
About Morrissey Goodale:
Morrissey Goodale has helped hundreds of clients transform and grow their architecture, engineering, and environmental consulting companies into high-level performers through strategic business planning, mergers and acquisition advisory, marketing and business development, executive search and human resources, leadership development, and business valuation and financial advisory services. Morrissey Goodale's team of M&A consultants assist throughout the M&A process, from preparing firms for a transaction to a successful integration. Morrissey Goodale's extensive network of relationships with AEC industry decision-makers around the globe uniquely qualifies the firm to identify the right buyers or sellers and guide AE firms through the complex merger or acquisition process, from conception to close.
For more information, visit www.morrisseygoodale.com or call 508-650-0040, or email [email protected]