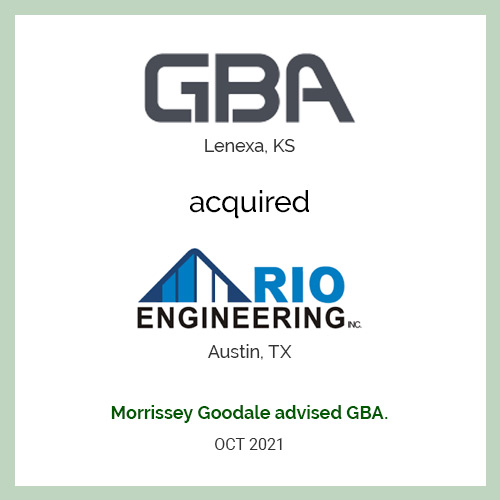 Natick, MA (October 13, 2021) – George Butler Associates, Inc. (GBA) announced the acquisition of Rio Engineering, Inc., its second deal in Texas, to capitalize on market potential for infrastructure preservation and expansion.
"By joining forces, our shared capabilities and increased capacity will enable the team to complete major inspection contracts and pursue new opportunities along the southern gulf. We are delighted to welcome Rio to GBA," Tim Ross, GBA President/CEO.
Rio Engineering provides routine, fracture critical, underwater, and other structural inspection services. This focus on inspection of bridges, seawalls, wharfs, and other waterfront structures blends well with GBA's Transportation group. All Rio Engineering employees will remain with the company and work from offices in Round Rock and Childress, Texas.
Morrissey Goodale, a specialized management consulting and research firm exclusively serving the architecture, engineering, and environmental consulting industries, acted as Financial and M&A Advisor on behalf of GBA. Nick Belitz, Principal at Morrissey Goodale, served as the firm's lead advisor.
About Morrissey Goodale:
Morrissey Goodale has helped hundreds of clients transform and grow their architecture, engineering, and environmental consulting companies into high-level performers through strategic business planning, mergers and acquisition advisory, marketing and business development, executive search and human resources, leadership development, and business valuation and financial advisory services. Morrissey Goodale's team of M&A consultants assist throughout the M&A process, from preparing firms for a transaction to a successful integration. Morrissey Goodale's extensive network of relationships with AEC industry decision-makers around the globe uniquely qualifies the firm to identify the right buyers or sellers and guide AE firms through the complex merger or acquisition process, from conception to close.