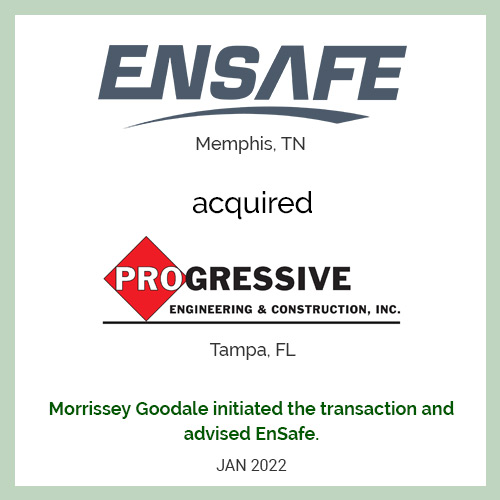 Engineering, environmental, health & safety, and technology services firm EnSafe announced today that it has acquired Tampa-based Progressive Engineering & Construction, Inc. (PEC).
PEC's engineers and scientists bring significant experience in remediation, plant operations, and waste minimization projects for industrial, municipal, and other clients, including sites regulated under CERCLA, RCRA, state/local orders, and various remediation programs. PEC's cofounder Bridget Morello, PE, has joined EnSafe as an Associate Principal to augment the firm's strong Senior Leadership Team and to guide and direct remediation efforts nationwide.
"While PEC's reputation and 'client first' mentality align well with EnSafe, the crux of why we're most excited is PEC's people, whose hearts and minds are our most valuable assets," says EnSafe President and CEO Don Bradford, CHMM. "It's clear each of PEC's staff know how to build and retain client loyalty, and each is an accomplished standout with environmental consulting acumen."
Morrissey Goodale, a specialized management consulting and research firm exclusively serving the architecture, engineering, and environmental consulting industries, acted as Financial and M&A Advisor on behalf of EnSafe. Jon Escobar and Tricia Washington, Vice Presidents at Morrissey Goodale, and Rafael Barbosa, Consultant at Morrissey Goodale, served as the firm's lead advisors.
About Morrissey Goodale:
Morrissey Goodale has helped hundreds of clients transform and grow their architecture, engineering, and environmental consulting companies into high-level performers through strategic business planning, mergers and acquisition advisory, marketing and business development, executive search and human resources, leadership development, and business valuation and financial advisory services. Morrissey Goodale's team of M&A consultants assist throughout the M&A process, from preparing firms for a transaction to a successful integration. Morrissey Goodale's extensive network of relationships with AEC industry decision-makers around the globe uniquely qualifies the firm to identify the right buyers or sellers and guide AE firms through the complex merger or acquisition process, from conception to close.
For more information, visit www.morrisseygoodale.com or call 508-650-0040, or email [email protected]