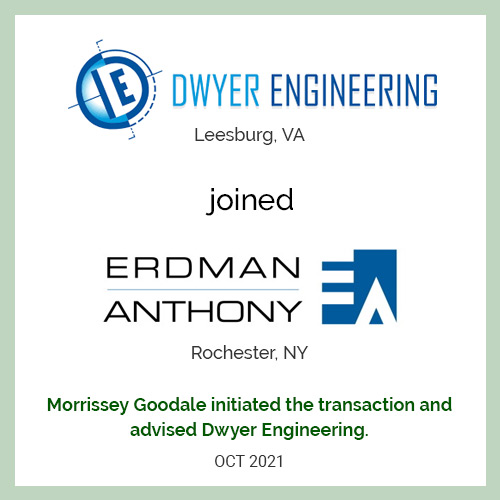 Natick, MA (October 12, 2021) – Dwyer Engineering, a mechanical, electrical, plumbing, and refrigeration engineering firm, has joined Erdman Anthony, a multidisciplinary engineering firm with offices across the eastern U.S.
Founded in 1981, Dwyer Engineering serves the food store, restaurant, retail, and office building markets and has offices in Leesburg, Virginia, and Columbia, Maryland. The firm's services and personnel will be aligned under Erdman Anthony's facilities engineering division.
As part of the acquisition, all Dwyer employees will become employees of Erdman Anthony. To maintain a seamless transition for clients, Dwyer personnel will continue in their existing roles and with their existing account assignments.
"Joining our teams means expanded capacity for serving our clients and the continuation of our 40-year commitment to provide growing companies with cost-effective solutions," said Matt Dwyer, PE, founder and CEO of Dwyer Engineering. "We're excited to be doing that with Erdman Anthony." Matt Dwyer will join Erdman Anthony as a vice president and will continue to be engaged with clients.
Morrissey Goodale, a specialized management consulting and research firm exclusively serving the architecture, engineering, and environmental consulting industries, acted as Financial and M&A Advisor on behalf of Dwyer Engineering. Nate Wentworth, CM&AA, FMVA, Consultant at Morrissey Goodale, served as the firm's lead advisor.
About Morrissey Goodale:
Morrissey Goodale has helped hundreds of clients transform and grow their architecture, engineering, and environmental consulting companies into high-level performers through strategic business planning, mergers and acquisition advisory, marketing and business development, executive search and human resources, leadership development, and business valuation and financial advisory services. Morrissey Goodale's team of M&A consultants assist throughout the M&A process, from preparing firms for a transaction to a successful integration. Morrissey Goodale's extensive network of relationships with AEC industry decision-makers around the globe uniquely qualifies the firm to identify the right buyers or sellers and guide AE firms through the complex merger or acquisition process, from conception to close.