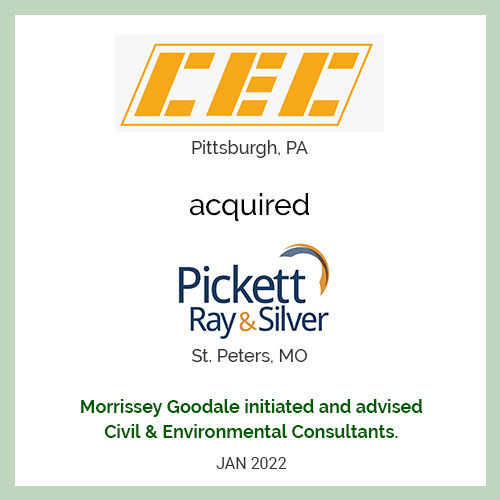 Civil & Environmental Consultants (CEC) announced the acquisition of St. Peters, Missouri-based Pickett, Ray & Silver (PRS), adding well-qualified professionals to expand CEC's civil engineering, survey, and land development capabilities.
Pickett, Ray & Silver , founded in 1969 by Ray Pickett, Dean Ray, and Glenn Silver, is a civil engineering and land survey firm that has provided planning and engineering services for commercial, industrial, residential, government, and institutional projects for clients throughout Missouri, Illinois, and Kansas. The 10-person PRS team will be relocating to CEC's existing office in St. Charles, Missouri. With the addition of the PRS group, CEC St. Louis will now have in-house survey/geospatial services.
PRS Chief Operating Officer Douglas Tiemann, P.E., P.L.S., will assume the position of survey/geospatial practice lead for the St. Louis office, provide added leadership to the existing civil engineering practice, and will be the residential development lead within the St. Louis office's real estate market group. Doug has experience with planning, design, and survey for not only residential and commercial real estate developments but also projects for public sector entities and industries in and around St. Charles County.
Morrissey Goodale initiated the transaction and advised CEC.