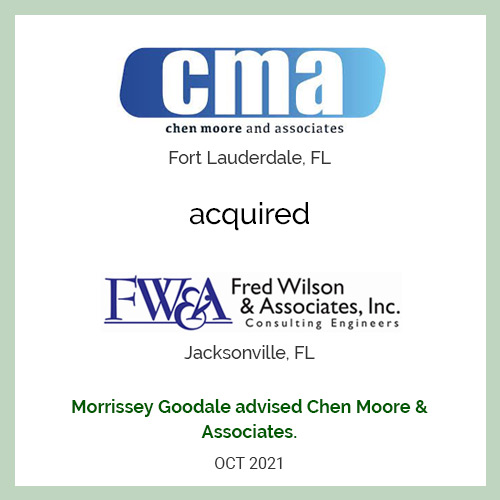 Natick, MA (October 14, 2021) – Fort Lauderdale-based Chen Moore and Associates announced the acquisition of Fred Wilson & Associates, Inc. The 100% acquisition of the 60-year-old Jacksonville-based engineering company expands Chen Moore and Associates' professional engineering consulting services to now include the electrical discipline, adds the Florida Department of Transportation (FDOT) to the Firm's highway engineering project portfolio, and increases the Firm's statewide team to more than 100 employees.
"Fred Wilson & Associates, Inc. really hit all the marks for us as a strategic acquisition," said Peter Moore, President and CEO of Chen Moore and Associates. "With their long successful history, 25 dedicated staff members, northern Florida location, and notoriety for both transportation and electrical engineering work- we are very excited to weave their long history into ours as an investment in our growth."
The acquisition of Fred Wilson & Associates, Inc. reflects Chen Moore and Associate's commitment to two of its six key market sectors and the potential to expand others such as water resources, water and sewer, transportation, power, parks and recreation, and land development to the Jacksonville region. Offering a full range of professional engineering consulting services, the Chen Moore and Associates team is highly regarded for facilitating statewide infrastructure improvements.
Morrissey Goodale, a specialized management consulting and research firm exclusively serving the architecture, engineering, and environmental consulting industries, acted as Financial and M&A Advisor on behalf of Chen Moore and Associates. Jeff Lookup, Principal Consultant at Morrissey Goodale, served as the firm's lead advisor.
About Morrissey Goodale:
Morrissey Goodale has helped hundreds of clients transform and grow their architecture, engineering, and environmental consulting companies into high-level performers through strategic business planning, mergers and acquisition advisory, marketing and business development, executive search and human resources, leadership development, and business valuation and financial advisory services. Morrissey Goodale's team of M&A consultants assist throughout the M&A process, from preparing firms for a transaction to a successful integration. Morrissey Goodale's extensive network of relationships with AEC industry decision-makers around the globe uniquely qualifies the firm to identify the right buyers or sellers and guide AE firms through the complex merger or acquisition process, from conception to close.