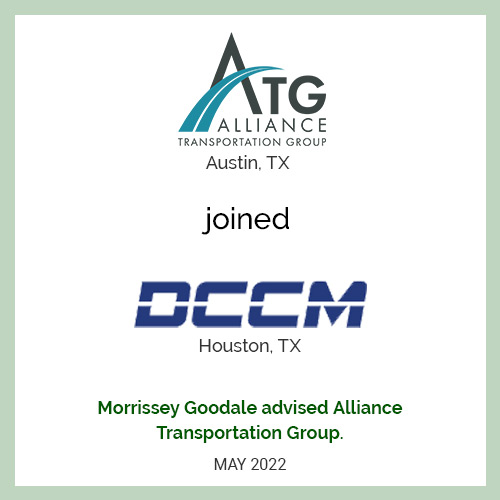 DCCM, a national provider of design, consulting, and program & construction management services based in Houston, Texas, is pleased to announce the acquisition of Alliance Transportation Group (ATG).
ATG is a full-service engineering and planning consulting firm focused on complex transportation systems. In acquiring ATG, DCCM is expanding its existing partnership with industry veteran Gayle Heath, who will be continuing in her role as Chief Executive Officer of ATG.
"With an eye toward partners most aligned with DCCM's vision for strategic growth, a commitment to developing and investing in staff, and an unrelenting focus on client service, ATG presents itself as an experienced firm with a compelling approach to providing an excellent customer experience without sacrificing a superior product," said James F. (Jim) Thompson, PE, DBIA, CEO of DCCM. "We are thrilled to welcome ATG to the DCCM family."
"I'm excited that ATG is joining the DCCM family of companies," said Gayle Heath. "ATG's mission is to 'Make Lives Better' by providing quality planning and engineering services and products on time and within budget naturally fits with DCCM and their mission. Our customers expect excellence, and DCCM's broad and experienced resources only diversify and strengthen our capabilities. Our customers will benefit from their additional support and investment into our business."
Morrissey Goodale advised ATG on the transaction.