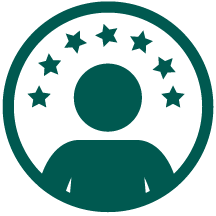 We have assisted hundreds of firms with successful strategic hires.
Morrissey Goodale can be your secret weapon in the AEC industry's talent war. As the search for talented architects and engineers is fiercer than ever, our executive search consultants specialize in the A/E industry and can pinpoint top candidates for your open positions. Our executive search team has a track record of recruiting highly qualified candidates for hard-to-fill positions — for architecture, engineering, environmental, planning and construction consulting firms of all sizes across North America.
What People Say:
"Lisa Elster with Morrissey Goodale helped us hire a Principal for our Houston, Texas office. This was an important strategic hire for our firm. The MG team did an excellent job finding an individual who not only has the technical skill set for the position, but someone who was a great cultural fit for our firm as well. It was a difficult position to fill as the market for this type of talent is extremely tight in Texas. Lisa strategized with us on the best way to realistically fill the search, and the resulting hire is an exceptional fit for the position and for our firm."
-Mark French, Director/US Deputy Education Lead, Texas-IBI Group, Inc.
"Thank you for helping us find and not hire 1, but 3 key professionals to help Benesch expand our geography, service line offering, and client base. These Senior Project Managers were not looking for new opportunities. All three were located in highly competitive markets. Morrissey Goodale successfully and efficiently completed the challenge of sourcing and recruiting."
-Jack P. Kweder, Jr, PE, COO, Alfred Benesch & Company
"Tighe & Bond engaged Morrissey Goodale to assist with a search for a very specific engineering need we had in Massachusetts and Connecticut, since the positions we sought to fill were challenging in a competitive niche market. The representatives were very professional throughout the process. They took time to ask careful questions about our employee value proposition, and followed up regularly."
-Jo Martin, Talent Acquisition/Recruiting Specialist, Tighe & Bond
"The Morrissey Goodale team were instrumental in understanding our needs, identifying, recruiting and closing the deal with a key practice leadership position in Dallas, TX. They were excellent in thoroughly screening, keeping us informed of progress and saved us precious time."
-Brent Christian, SVP, RPS Klotz Associates, Inc.