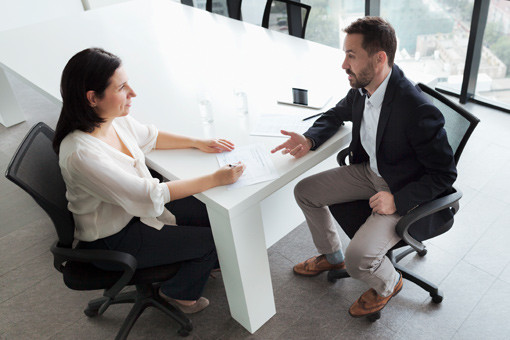 The next time I hear a manager claim that a candidate didn't knock his/her socks off, I think I'm going to scream. Guess what? In this market, design industry professionals have their choice when it comes to where they want to work. They don't have to "knock anyone's socks off" to get a job. If they really want a job, then they usually can make calls to any competitors in the neighborhood and get hired right away. Make candidates jump through too many hurdles to join your firm and see lots of talent decide to go and work for other firms when they should be working for yours.
I'm not advocating that firms shouldn't be evaluating past performance. They should be looking at past work history and level of success in previous positions in addition to evaluating communication, emotional intelligence, soft skills, etc. They should also be checking references. All these things are extremely important when it comes to hiring. During the evaluation process, however, it's also important to understand that the "perfect candidate" does not exist, and never will. Waiting for non-existent people to walk through the door can cause firms to leave key positions open, or unfilled for months, or even years because their expectations are unrealistic.
When evaluating talent, it's important to determine if candidates can do the job required despite their flaws. There will always be weaknesses, but do those weaknesses outweigh their strengths? Can these candidates be put into positions that can capitalize on their strengths? As of this writing, the New England Patriots just won their sixth Super Bowl Championship. Even though they were the best team in the National Football League at the end of the season, nobody would say that this team didn't have flaws. Collectively, however, they were able to work together as a team. Combined with great coaching, the organization was able to put people into positions where they could capitalize on their strengths, overcome their flaws, and ultimately win it all.
Architecture, Engineering, Planning, and Environmental Consulting firms face similar challenges as NFL teams because ideal players also don't exist. Expecting "perfection from imperfect prospects" is likely to result in inaction and mediocrity. To prevent inaction from "paralysis by analysis" resulting from unrealistic candidate expectations, firms should consider what will be required to get from where they are now to where they want to be over the next three, five, seven, or ten years, with the understanding that few, if any, candidates will meet all of the criteria on their wish lists. Maybe it will take more than one candidate to cover an existing need, or maybe an acquisition should be made to compensate for a firm's existing weaknesses.
Get creative. If your football team's strength is running over passing, then perhaps it should become a power football team instead of depending on an aerial attack. Or if the team determines that it must have a quarterback, define what that quarterback would look like, and then go out and get it. That search, however, needs to be done with the understanding that no quarterback is the same. It could be someone who has strengths that are slightly different, but perhaps even better than what the firm originally wanted. Tom Brady was a sixth-round pick. He was "not" the ideal quarterback candidate when he was drafted. But one organization took a chance, put him in a position to succeed, and look what happened.