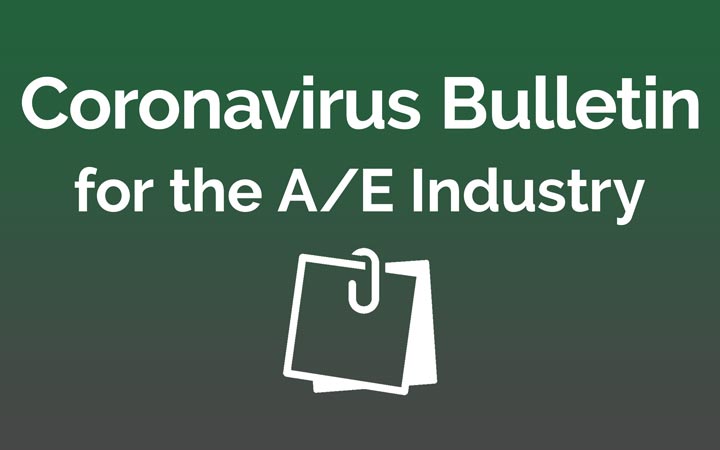 The latest on the Coronavirus and its impact on the A/E Industry.
For the duration of the Coronavirus pandemic, Morrissey Goodale will provide A/E leaders with news and perspective on the coronavirus and its impact on our industry.
A/E CORONAVIRUS IMPACT SURVEY RESULTS
Industry Leaders Adapting to the New Normal
A crisis is comprised of three stages – (a) pre-crisis, (b) crisis response and (c) post-crisis. The COVID 19 crisis is like no other – a conflation of a fast-moving pandemic and economic implosion – with apparently an "end" in sight once the public health element is resolved. This means that the pre-crisis and crisis response stages are happening pretty much concurrently.
Morrissey Goodale surveyed over 100 U.S. AEC firm CEOs and senior managers from March 23, 2020 to March 27, 2020 to assess the impacts the crisis on the industry, how they are responding and their thoughts for the future. The results provide a starting point to share guidance and best practices to help the A/E industry through this unique time.
Survey statistics
Morrissey Goodale collected a total of 104 responses from Presidents/CEOs and senior managers of industry firms. Almost 70% of the respondents are from Consulting Engineering/Environmental firms while 20% are from either A/E or E/A firms and 10% are from Architecture/Interior/Planning firms.
Almost 55% of respondents are based in the East Coast, with the remaining firms spread even throughout the rest of the country (note the survey was conducted as California was moving into statewide shelter in place). The firms responding were evenly distributed between all sizes from small (up to 24 employees) to large (over 500+). In addition, there was a fairly even distribution between firms that work in the public and private sectors.
Survey results
About 43% of firms reported a moderate decrease in their workloads since the crisis hit.
Only 7% of respondent firms expect to need an emergency loan to make it through this crisis while 26% are unsure at this point. These statistics are an indication of the generally conservative nature of the AE industry which tends to avoid debt and keep cash on the balance sheet.
Slightly more than 60% of respondents are now working remotely most or all of the time. This percentage reinforces what we are hearing in conversations with clients – the industry has been forced to try to adapt swiftly to moving employees to remote working. Long term, Morrissey Goodale sees this crisis as leading to a post-crisis environment where more A/E firms choose to have most or all of their talent work remotely. Currently most A/E firms spend 6% to 8% of revenue on rent and utilities. Post-crisis we expect that percentage to drop by half. Instead, A/E firms will spend more on technology to facilitate remote working and more on employee training and development to equip their teams to be successful in a remote working environment.
Nearly a third of respondents that are working remotely report they are still trying to figure things out or are behind the curve. For help with transitioning your firm to a remote working environment, click here >
There is no consensus among industry leaders as to how long this crisis will last; responses are split fairly evenly between 30, 60, 90 days and longer.
When asked to articulate their greatest concerns about the crisis, the most frequently mentioned themes include
Physical and mental health of employees
Survival of their business through a recession (or depression)
Not knowing how long the crisis will last
Viability of their business model post crisis
To access the results to Morrissey Goodale's Coronavirus Impact Survey for the A/E Industry, click on the links below:
All open-ended responses (question 10) >
Responses filtered by location:
East Coast >
Midwest >
South Central >
Mountain >
West Coast >
Responses filtered by firm type:
Architecture/Interiors/Planning >
Consulting Engineering/Environmental >
A/E or E/A >
Responses filtered by client mix:
All public and mostly public >
50/50 public-private >
Mostly private >
All private >
COVID-19 UPDATE
Cases increasing, but at a slower rate
Coronavirus cases continue to mount around the globe with New York City remaining the epicenter of the outbreak in the United States. New York Governor Andrew Cuomo says the number of coronavirus cases is doubling every four days, compared to doubling every 2 1/2 days earlier during the crisis, and that the peak could still be three weeks away.
Economic impact
GDP could drop by more than 20% in Q2. A sharp rebound in the second half still may not be enough to restore GDP to flat growth for the year. In the meantime, the Federal Reserve will do what it can to prop up the economy by keeping interest rates below 1%. The Fed will also purchase corporate bonds (a first) from investment-grade firms and offer bridge loans for up to four years.
A/E impact
The impact of the pandemic continues to ripple through the A/E industry. Per our survey, 50% of firms with a mostly private client base report a moderate drop in work in the last two weeks with 8% reporting a significant decrease. About 51% of firms with a public or mostly public client base report a moderate drop in work while 11% record a moderate increase in work. Disruptions in construction appear to differ by region. In New York, Mayor Bill de Blasio said, "Luxury condos will not be built until this is over, office buildings are not going to be built. So that work is going to end immediately. We need to protect people." Work is expected to continue on roads, bridges, health care facilities, utilities, and affordable housing, however. In contrast, Tim Keane, Atlanta Department of City Planning commissioner, recently confirmed construction is one of the essential businesses exempt from the Mayor's "Stay at Home" Executive Order of March 23. Permitting and inspections, however, have been delayed because Atlanta City Hall has been closed to the public and officials are trying to maintain social distancing.
Stimulus package
Congress delivered a $2 trillion economic bailout, the largest ever. Billions of dollars could go for infrastructure or other construction, including hospitals, airports and transit systems. The bill also includes a $500 billion lending program for affected firms, states and cities and a separate $367 billion program to help small firms maintain their staff through payroll assistance. Eligible firms can apply to the Small Business Association ("SBA") or to local lenders approved by the SBA to administer the funds. Much is still murky, however, as decisions about what money will be funneled to construction projects will be left up to states, cities, and other local jurisdictions.
Life after COVID-19
Much will change after the pandemic finally subsides. In particular, the trend of working at home, which was already gaining steam, will rapidly accelerate. In fact, more of life in general will happen online. Both trends will have significant implications for the A/E industry's workforce and the services A/E firms provide.