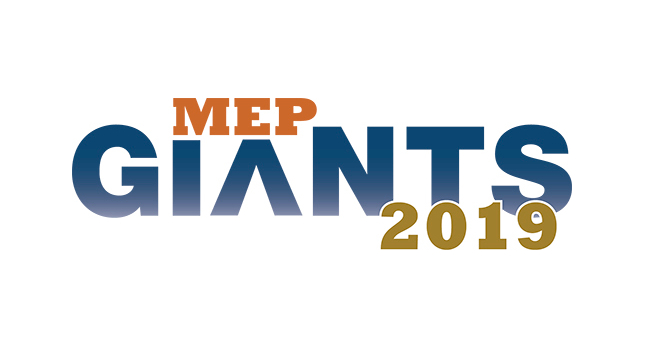 The 2019 Consulting-Specifying Engineer MEP Giants have been announced
Consulting-Specifying Engineer, a CFE Media publication, has announced the 2019 MEP Giants. The 100 engineering firms distinguished by this award are recognized in the August 2019 edition, highlighted online at www.csemag.com/giants and honored at a dinner and networking awards event in Chicago in October.
The MEP Giants program, sponsored by Eaton, lists the top mechanical, electrical, plumbing (MEP) and fire protection engineering firms in North America. The detailed analysis of these firms reveals industry insights and how the industry has changed over the past several years.

source: https://www.csemag.com/articles/2019-mep-giants-announced/
Key Points Within MEP Industry
2019 MEP Design revenue was $8.4B vs 2018 at $7.6B – increase of $0.8B or approximately 10.5%.
A large jump in 2019 Mergers and Acquisitions with 25% of the MEP Giant firms reporting acquiring another company. Several firms made multiple acquisitions over the course of the year, with Stantec leading the way among MEP Giants in 2018 with a whopping nine deals recorded.
Expect the rapid pace of deal-making to continue driven by:

Strong US Economy and Industry
Industry Life Cycle – the only way mature firms have been able to show solid growth
Influx of private capital
Ownership transition challenges – baby boomers that founded many of the firms cashing in
Talent Shortage

Rising yet again is the MEP Giants' concern about "staffing: quality of young engineers." This year, a full one-third indicated it was their biggest corporate challenge.
When it comes to sustainable engineering, the number of U.S. Green Building Council LEED projects decreased for this reporting period yet again; 1,199 projects were submitted for LEED certification in the past fiscal year, whereas 1,372 projects were submitted for the previous reporting period.
New York is once again listed as the No. 1 state that firms call home, with 18% of companies headquartered there. California (9%) and Pennsylvania (8%) are next on the list.
Hospitals and healthcare facilities command the largest percentage (16%) of work by building types – see figure below for breakdown.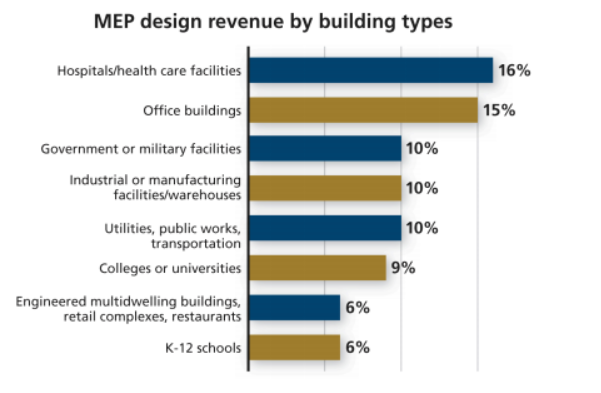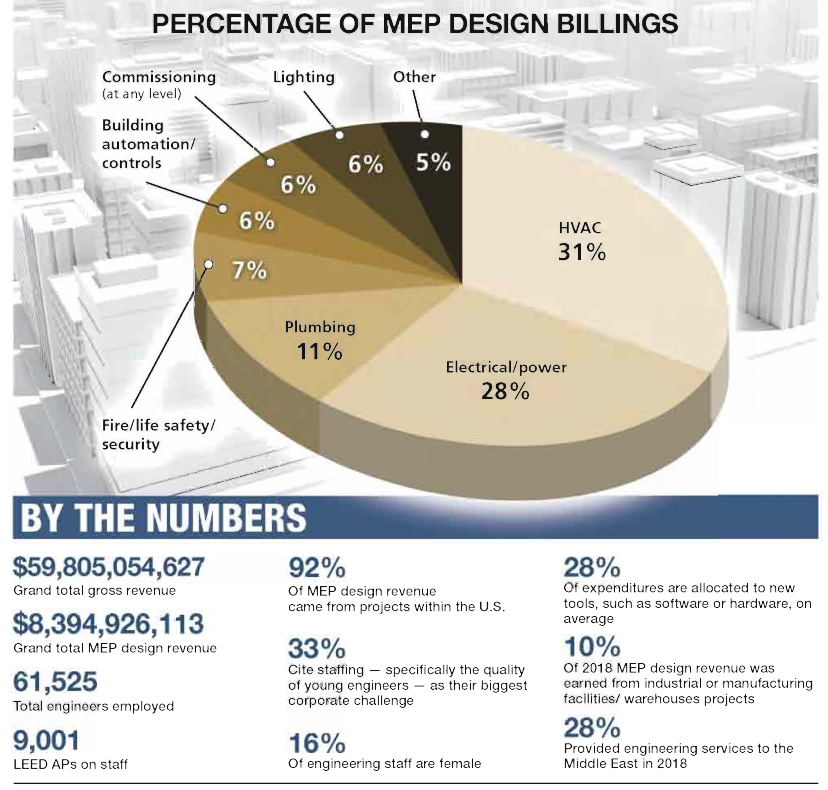 To see more detailed info hosted on line go to the links below: