Hotel Nikko • San Francisco, CA
Check back here for additional agenda details and updates as we near the meeting date.
Welcome Reception
Peninsula Room on the 25th Floor of Hotel Nikko San Francisco
Breakfast
Monterey Room on the 3rd Floor of Hotel Nikko San Francisco
Overview of A/E M&A Trends 
Learn what's driving M&A activity today.  What are buyers looking for?  What's motivating sellers?  How is consolidation playing out in the West?  What's the outlook for M&A in the U.S?
Deal Structuring
How are deals being structured in today's market? Gain insight into deal structuring best practices and how to understand the tax implications of different deal structures.
Deal Closing
From letter of intent to purchase and sale, learn how to close a deal like a pro, whether you're a buyer or seller.
Buyers Best Practices Panel
In this moderated panel, buyers discuss how they originate deals, analyze transactions, and integrate acquisitions successfully.
Sellers Best Practices Panel
Hear from sellers on what they learned through the firm sale process, what advice they have for potential sellers, what they would have done differently, and what life is like after the deal is done.
Integration Best Practices Panel
Integration is a blend of management science, art and hard work.  Learn what it takes for a successful integration from industry professionals and experts.
Closing Cocktail Reception
Continue your deal-making and networking at the post event cocktail reception in the Monterey Room on the 3rd Floor of Hotel Nikko San Francisco.
EARLY BIRD PRICING
Through May 11 ……… $945
After May 11 ………. $1,145
Your registration fee includes the welcome reception on June 10th, the full day of events and materials on June 11th, as well as breakfast, lunch, and a post-conference cocktail reception. Attendance is limited to 75 registrants.
"As an active buyer, the information presented by the Morrissey Goodale staff was invaluable data I can use today. A very productive event."
Christopher Sherry, President
Merrick & Company (ENR #133), Greenwood Village, CO
"Principals of small to medium size consulting firms entangled in the day to day operations associated with their business seldom have a deep understanding of the M&A marketplace. The symposium was a thorough and detailed presentation into the subject of M&A and the options available should an ownership transition be on the horizon. Time well spent."
Fraser Smith, Principal and Co-founder
Mendenhall Smith Structural Engineers, Las Vegas, NV
"The symposium was highly valuable with great information on trends, as well as good networking opportunities."
Dan Huntington, Vice President – M&A
IMEG Corp. (ENR #104)
"One of the most educational programs for anyone considering M&A in their business."
Ernesto Aguilar, CEO
Ardurra Group, Inc. (ENR #272)
"Very informative. Authoritative and experienced speakers. Great interactive sessions."
Dan Chandler, President, Managing Principal
OAC Services, Inc., Seattle, WA
Read What Past Attendees Have to Say
This symposium exceeded my expectations by not only including experts in the field of M&A, but by also including firms who shared all aspects of their merger or acquisition in panel sessions.

Dawn Antonucci

Dawn Antonucci, Vice President, Towill, Inc.

I thought both the content of the seminar and the quality of the attendees was top-notch.

John Kissinger

President & CEO, GRAEF (ENR #372)

The Morrissey Goodale symposium was a thorough and detailed presentation into subject of M&A and the options available should an ownership transition be on the horizon.  Time well spent from my perspective.

Fraser Smith

Principal and Co-founder, Mendenhall Smith Structural Engineers

Best networking Event I have ever attended. All decision makers of the top firms in our industry.

Jim Tull

Chief Financial Officer, Crafton Tull (ENR #461)

I thoroughly enjoyed the symposium. It had just the right balance of presentations, panel discussions, and opportunities for networking. The hosts did an excellent job developing and delivering the program.

Cortney Brand

President/CEO, Leonard Rice Engineers

The symposium was a great opportunity for both the beginner and the veteran M&A professional in the A&E field to get updated on current trends, market activity and the specifics of the deal. I learned a lot.

Dina Rochford

Principal, Leighton (ENR #354)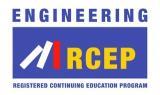 ENGINEERING REGISTERED CONTINUING EDUCATION PROGRAM
Earn 6.50 Professional Development Hours
Morrissey Goodale has met the standards and requirements of the Registered Continuing Education Program. Credit earned on completion of this program will be reported to RCEP. Certificates of Completion will be issued to all participants. Complaints regarding registered providers may be sent to RCEP at www.RCEP.net.