Continued Growth Forecasted for 2022
Growth mindset. The AEC industry remains resilient as the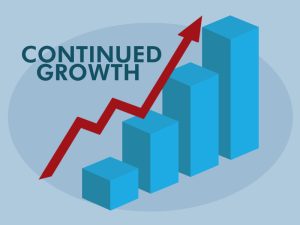 coronavirus pandemic enters its third year. Dodge Construction Network forecasts that the value of construction starts will build upon a 12% increase in 2021 with a 6% gain in 2022 despite headwinds that include the highest inflation rate since 1982, supply chain disruptions, material price spikes, a chronic labor shortage, and the continued threat of COVID-19 variants to disrupt the economy. American Institute of Architects (AIA) Chief Economist Kermit Baker expects average architecture firm revenue to grow by 7% in 2022 after rising nearly 6% in 2021.
Road construction ahead. Perhaps the rosiest outlook for 2022 is for public works markets, thanks to the $1.2 trillion infrastructure bill. The American Road & Transportation Builders Association forecasts a 5% increase in the total value of transportation-related construction in 2022, while Dodge projects a 6% increase in construction starts for highways and bridges. When asked to assess prospects for 17 industry markets in 2022, Associated General Contractors of America members expressed their greatest optimism about the highway and bridge; transit, rail, and airport; and water and sewer markets.
All rise. According to an aggregation of industry forecasts compiled by the AIA, nonresidential building construction is expected to rise by 5.4% in 2022—with only the hotel, religious, and public safety markets projected to decline. The AIA's Consensus Construction Forecast calls for a 9.4% rise in industrial construction, a 4.7% increase in commercial construction, and a 4.4% upturn in institutional construction in the coming year. 
Cool homes. Single-family housing starts in 2021 topped one million units for the first time since 2006 as the pandemic fueled a suburban migration and freed remote workers from being tethered to cities with low housing stocks and high prices. While the National Association of Home Builders reports that single-family starts increased 13.4% and multifamily starts rose 22.1% in 2021, its 2022 outlook calls for a 1% growth in single-family starts and a 6% growth in apartment construction—a flattening due to expected increases in mortgage rates and material prices along with potential supply chain bottlenecks.

Could a Robot Dog Become the Industry's Best Friend?
Dog days ahead. It's appeared on TV programs from 60 Minutes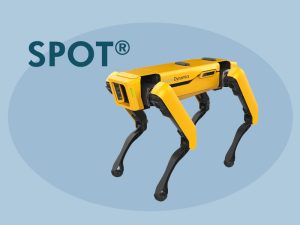 to The Book of Boba Fett, and soon Spot—the unique quadruped robot manufactured by Boston Dynamics—could be coming to a jobsite near you. Resembling a canine and moving on four legs, the agile, semi-autonomous robot can climb stairs, cross rugged terrain, and navigate areas difficult or hazardous for people to access. By performing time-consuming tasks with greater speed and precision, Spot holds the potential for freeing up staff members to focus on more critical tasks. 
Spot the benefits. Boston Dynamics touts Spot's ability to automate the monitoring of construction project progress and accuracy, capture 360-degree images and video, and collect 3D and 4D data that can be used to produce digital twins by attaching customized sensor payloads, laser scanners, and software to the robot dog. General contractor Swinerton found that Spot could scan 50,000 square feet in as little as 20 minutes. 
Aye, robot. The only design firm to participate in Spot's early adopter program, Foster + Partners equipped the robot to scan and capture data on two projects—a renovation of its London office and a mixed-use project as part of the Battersea Power Station development. Instead of having to maneuver cumbersome scanning equipment around its jobsites, a tedious task that could eat up man hours, the firm used Spot to automate and streamline the process. The company reported time-saving benefits from the robot's ability to both remember geolocations from previous visits and embed metadata in each scan, which Foster + Partners used to quantify progress and ensure the built project was accurate to the intended design.
Power of the dog. In its testing of Spot's capabilities, Foster + Partners reported that the robot can be noisy when walking and that its battery capacity could be an impediment in scanning large spaces, deficiencies it noted could be resolved by improvements in movement mechanics and a new feature to power up autonomously through a charging dock. 
Growth plans. A global survey of more than 6,000 business and IT executives by Accenture in December 2020 and January 2021 found 18% scaling up digital twins and 24% experimenting with the technology. Those numbers are sure to rise as EY forecasts the global digital twin market to grow from $3.1 billion in 2020 to $48.2 billion in 2026. 

Taming Burnout Goes Beyond Overwork
Staff depletion. Along with unleashing a global pandemic,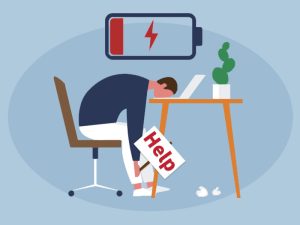 COVID-19 has exacerbated an epidemic of worker burnout. More than 75% of U.S. workers surveyed by the Conference Board in September 2021 said that stress and burnout were big challenges to their well-being at work, up from 55% six months prior. Amid the Great Resignation, that mental exhaustion is driving employees out the door as workers who experience burnout are nearly three times more likely to be actively job hunting, according to research by polling firm Gallup. 
Self-control. Research has shown that burnout is the result of more than simply the number of hours worked—it's about an absence of control. "A lack of autonomy puts people on a fast track to burnout," wrote Liz Fosslien, head of content at Humu, for the MIT Sloan Management Review in August 2021. According to a December 2021 Wall Street Journal article, research by Gallup suggests that "the greatest determinant of worker burnout isn't the number of hours worked, but factors such as unmanageable workloads, unclear communication, and lack of manager support." In addition, a study of more than 3,000 Wisconsin residents that was published in the January 2021 issue of the Journal of Applied Psychology found that work stressors are more likely to cause depression and death in jobs in which workers have little control.
Extinguishing the burnout. If overwork isn't the primary cause of burnout, mandatory vacation days, blackout hours, and four-day workweeks will likely offer only fleeting results because they don't address the fundamental cause of burnout. Instead, give employees more control over their workdays. "Employers have to give permission to employees to craft their roles," recommends Jennifer Moss, author of The Burnout Epidemic. This will require considerable dialogue with staff since individual preferences will vary from person to person. As remote work expands, some employees may want more control over when and where they work. Others will want more autonomy in how they work and what they work on. This doesn't mean inviting a free-for-all. It does mean building systems in which smart, responsible people will self-manage and self-organize in ways that help them take better care of themselves, each other, clients, and the company.
Speak to the (micro)managers. "Employees who experience burnout are three times more likely to feel micromanaged," writes Moss. Employees are more engaged and motivated when they are given authority to make decisions for themselves, which means firm leaders looking to tame outbreaks of burnout should be vigilant for any instances of micromanagement inside their organization. 
AEC Industry Events
Morrissey Goodale Events
Morrissey Goodale's AEC event attendees have the chance to learn proven strategies and tactics, recharge their batteries, network with their peers, and return to the office with new ideas and best practices for leading their firms into the future.
Join us for the latest M&A information including trends and up-to-date deal pricing data, and participate in best practice panel discussions on strategy, innovation and M&A. This is the #1 West Coast and Western States networking forum for AE & environmental industry executives, buyers, sellers and investors.
Western States M&A, Strategy and Innovation Symposium
June 8-9, 2022
San Francisco, CA
Over two information-packed days, leaders from AE firms across the country will come together to discuss how to advance their firms and drive growth. You'll learn about the strategy, innovation and M&A trends that are converging to reshape the AE industry, while networking with industry executives, buyers, sellers and investors.
Texas and Southern States M&A, Strategy and Innovation Symposium
October 12-13, 2022  –  Houston, TX