Finally—An Infrastructure Bill
Trillion, with a T. After years of sporadic "infrastructure weeks" and months of political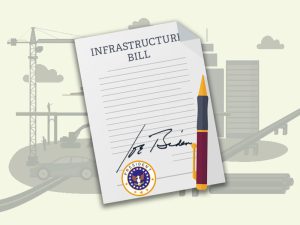 wrangling, President Joe Biden signed into law a $1.2 trillion infrastructure package on November 15. While there's been considerable focus on what didn't make it into the 2,702-page Infrastructure Investment and Jobs Act from the original $2.7 billion proposal, the legislation marks the largest federal public works program in decades.
Multi-modal. In addition to renewing existing transportation spending, the act includes $550 billion in new federal investments over five years. The $110 billion in new funding for highways and major projects includes $37 billion for a new Bridge Investment Program, which is the single-largest outlay for bridges since the construction of the Interstate Highway System in the 1950s. Also in the legislation is $66 billion for passenger and freight rail, including money to modernize Amtrak's Northeast Corridor between Boston and Washington, D.C.; $39 billion for public transit; and $25 billion for airports, which includes $5 billion for a new Airport Terminal Improvement program.
Follow the money. The legislation is not all planes, trains, and automobiles. The $65 billion allocated to energy infrastructure is the single-largest federal investment in the power grid in U.S. history. It will fund projects that increase grid reliability and resiliency, expand renewable energy, and install thousands of miles of new power lines. There is also $65 billion to bring high-speed internet to rural communities, $54 billion for drinking water and wastewater systems, $21 billion to clean up Superfund and brownfields sites, $7.5 billion to develop a network of electric vehicle charging stations, $1 billion to restore the Great Lakes, and $500 million for smart-city projects. The $46 billion allotted to resiliency will fund cybersecurity, flood and wildfire mitigation, and ecosystem restoration projects. 
Challenge expectations. Now comes the implementation—which will bring its own challenges. State DOTs and transit agencies will need to ramp up hiring to move projects through their pipelines, and the increased project volume and expansion of Buy America provisions spurred by the infrastructure bill could exacerbate supply chain issues and drive up materials costs, which will impact the entire AEC industry.

The Arrival of the Digital Twin
Reality check. A/E industry technology has evolved from CAD to BIM and now to the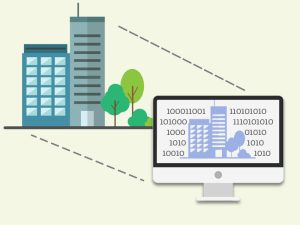 digital twin. According to the Digital Twin Consortium, "A digital twin is a virtual representation of real-world entities and processes, synchronized at a specified frequency and fidelity." Employing data collected by sensors enabled by the internet of things, these dynamic, virtual replicas of the built environment can be used by project owners and designers to reliably test the real-life outcomes of various scenarios. 
Difference maker. According to EY (formerly Ernst & Young), "Digital twins are becoming the market differentiator that will have the greatest impact on building efficiencies, cost optimization, operational intelligence, and decarbonization." Building owners can use digital twins to increase operational efficiency, reduce greenhouse gas emissions, and decrease footprints through more efficient space utilization. Cities are deploying digital twins to study climate change, traffic patterns, energy use, safety and security, and urban development, and ABI Research projects that the use of digital twins for urban planning could result in a cost savings of $280 billion by 2030.
Breaking barriers. According to technology website VentureBeat, 80% of a facility's total lifecycle cost is in the operation phase, and data captured during design and construction could have significant value to project owners seeking to boost their ROIs. Traditionally, however, that information has gone uncollected or been stored in disparate silos and formats. Technology providers are seeking to change that. Bentley Systems, Autodesk, and Microsoft are among the steering committee members of the Digital Twin Consortium, which was formed in 2020 to collaborate on standards, best practices, and interoperability. In addition, Bentley Systems has established a $100 million corporate venture capital fund to invest in technology companies researching digital twin uses for infrastructure, while Autodesk launched its digital twin platform, Tandem, in September 2021.
Growth plans. A global survey of more than 6,000 business and IT executives by Accenture in December 2020 and January 2021 found 18% scaling up digital twins and 24% experimenting with the technology. Those numbers are sure to rise as EY forecasts the global digital twin market to grow from $3.1 billion in 2020 to $48.2 billion in 2026. 

Will Business Travel Ever Rebound?
No bounce back. Unlike leisure travel, business travel has not recovered from the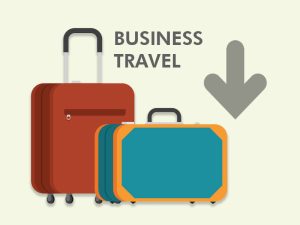 coronavirus pandemic—and it's possible that it never will. Zoom, Microsoft Teams, and other online platforms proved to be adequate methods for connecting with co-workers, clients, and prospective clients during the pandemic without the downsides of jet leg, expenses, and time away from family. According to travel analytics company ForwardKeys, corporate trips in the United States in September 2021 were only 42% of the level of September 2019. 
Low expectations. Only 48% of business travelers surveyed by Morning Consult in October 2021 expected to take a business trip within the next year. Over the long term, McKinsey forecasts a 20% reduction in corporate travel spending from pre-pandemic levels by 2023, and consulting firm AlixPartners projects a business travel decline of 15% to 25% from pre-pandemic levels through 2025. "We don't think business travel will ever return to 2019 levels," KPMG global head of travel and leisure Will Hawkley told Bloomberg.com.
Inside job. With video calls proving to be perfectly workable alternatives for corporate meetings, intra-company business trips—which account for one-fifth of all business travel, according to AlixPartners—are expected to see the steepest cuts going forward. A December 2020 Wall Street Journal analysis projected that 40% to 60% of air travel for internal business could be replaced by technology. In an industry built on relationships, business travel will be more focused on face-to-face meetings with clients and prospective clients. Future road warriors will be those with robust expense accounts and an eagerness to get out of the house and the office. Seventy percent of respondents to an October 2021 Global Business Travel Association survey said they miss traveling for business and are eager to get back on the road. 
Changed climate. While the coronavirus pandemic is expected to leave a permanent mark on corporate air travel, a further shakeup could be coming due to aviation's contribution to climate change. With an increasing number of companies committing to reduce their carbon footprints in coming years, air travel is a natural target. 
AEC Industry Events
Morrissey Goodale Events
Morrissey Goodale's AEC event attendees have the chance to learn proven strategies and tactics, recharge their batteries, network with their peers, and return to the office with new ideas and best practices for leading their firms into the future.
Over two information-packed days, leaders from AE firms across the country will come together to discuss how to advance their firms and drive growth. You'll learn about the strategy, innovation and M&A trends that are converging to reshape the AE industry, while networking with industry executives, buyers, sellers and investors.
Texas and Southern States M&A, Strategy and Innovation Symposium
October 11-12, 2022 – Houston, TX