September 5-6, 2019 • Fenway Park • Boston, MA
Morrissey Goodale's CEO Event exceeds expectations every year. Our agenda consistently inspires thought-provoking conversation and interaction around emerging industry trends, critical market drivers, evolving best practices.
Check back here for additional agenda details and updates as we near the meeting date.
Welcome Reception at the Old State House
206 Washington Street
Boston, MA
Registration and Breakfast
Overlooking Fenway Park
Welcome and Introductions
Morning Think Tank
Assessing Crucial Industry Trends and Market Drivers
Morning Think Tank Debriefs
Lunch overlooking Fenway Park
Afternoon Think Tank
Exploring Transformational Industry Best Practices
Afternoon Think Tank Debrief
Dinner in the MYXR Suite at Fenway Park
World Series Champions Red Sox v. New York Yankees
PRE-REGISTRATION FEE
Attendee ………. $2,750
Seating is limited and this event will sell out.
To guarantee your place, register today.
"This is hands down the best CEO meeting I have had the opportunity to attend. Mark's ability to get people focused and opening up about real, current concerns combined with the small size and careful make-up of the group results in a remarkably frank, useful and ego-free exchange of ideas. And Red Sox fan or not, it is a world class venue."
Brad Cheney, CEO
CME Associates, Inc.
"Unique venue, charming, entertaining hosts, and interesting CEO participants – a lovely and educational day and night in Boston."
What People Say
"Kudos to Mick, Mark and the entire M&G team for hosting an outstanding event. Great opportunity to network and share common concerns with other industry leaders in such a unique venue made for a productive yet pleasant use of our time together. I would definitely recommend it to any company executive looking for an opportunity to mingle with other industry…

John Bologna

CEO/President, Coastal Engineering Company

"The material was so in-depth, so informative, that it made me think more in-depth about our situation and where we are headed."

John Kissinger

President & CEO, GRAEF

"A one-of-a-kind opportunity to attend a 'think tank' with other like-minded CEOs in the A/E industry. An invaluable experience!"

Despina Samiotes

CEO, Samiotes Consultants, Inc.

"Having attended two A/E CEO Events with Morrissey Goodale, I have most appreciated the opportunity to have a dialog with CEO peers around the strategic challenges facing our business. Morrissey Goodale does a great job of getting the right people in the room and leading us through a structured and focused dialog around the most important issues."

Doug Jaeger

President/CEO, Ulteig Engineers

"This was a relaxing and open environment for CEOs of firms large and small to get together and discuss common challenges and opportunities they each confront. The number of attendees, the setting and facilitation made for some great, candid conversation—great job."

Chuck Padera

President/CEO, Kleinschmidt Associates

"The A/E CEO Event at Fenway Park was well worth my time. Morrissey Goodale created an environment that let us talk about critical issues facing our businesses in a very open and honest way. It's not often that a group of CEOs open up. I found the interaction refreshing and I feel we all walked away better for the engagement."

Robert Scaer

Chairman & CEO, Gannett Fleming, Inc.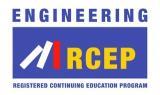 ENGINEERING REGISTERED CONTINUING EDUCATION PROGRAM
Earn 5.00 Professional Development Hours
Morrissey Goodale has met the standards and requirements of the Registered Continuing Education Program. Credit earned on completion of this program will be reported to RCEP. Certificates of Completion will be issued to all participants. Complaints regarding registered providers may be sent to RCEP at www.RCEP.net.