September 5-6, 2019 • Fenway Park • Boston, MA
The Morrissey Goodale CEO Event at Fenway Park is an exclusive, one-of-a-kind forum for A/E firm leaders to discuss where the industry is headed, share ideas, and recharge batteries—all within the friendly confines of the nation's most historic ballpark.
Learn
Gather with an accomplished group of A/E executives in the Partners' Suite at Fenway Park, as industry experts Mick Morrissey and Mark Goodale lead a series of vibrant, interactive "Think Tanks". Participate in conversation about:
Emerging industry trends
Critical market drivers
Evolving best practices
And anything else you want to put on the table
Fueled by leaders like you with unique skills and vast experience, this event becomes a hotbed for innovation and transformation. You can't help but think bigger and reach beyond your grasp when surrounded by bright people doing remarkable things. You find yourself opening up to the possibilities!
Connect
The Morrissey Goodale A/E CEO Event at Fenway Park is a sounding board for gaining new perspectives from industry peers on your long-held beliefs and assumptions. The environment is very much about peer-to-peer mentoring. Other participants derive as much value from you as you do from them—and that feeling of "being alone at the top" is replaced by knowing you're in the company of others know exactly what it's like!
Enjoy
As if a value-packed day with a terrific group of peers isn't enough, top off the experience with an exclusive tour of Fenway Park followed by a Red Sox game. Watch one of the most storied franchises in all of professional sports from Fenway's exclusive Dell Suite—with a luxury food station, climate-controlled atmosphere, private bathroom, and comfortable seating. Enjoy the open bar and great food…and even take a picture with one of the Red Sox World Series Trophies that will make an appearance during the game! Hey, you work hard. It's OK to enjoy yourself now and then…it's good for the spirit!
PRE-REGISTRATION FEE
Attendee ………. $2,750
Seating is limited and this event will sell out.
To guarantee your place, register today.
"I came away with valuable advice from other CEOs. Great event and very well done."
Jill Heath, President & CEO
CALYX Engineers & Consultants
Brought to you in partnership with…
Past attendee firms include
AKF (New York, NY) ENR #238
Alfred Benesch & Company (Chicago, IL) ENR #127
Baxter & Woodman (Crystal Lake, IL) ENR #371
Callison (Highlands Ranch, CO) ENR #13
Cardno USA (Lone Tree, CO) ENR #44
CP&Y (Dallas, TX) ENR #265
CSRS (Baton Rouge, LA)
EnSafe (Memphis, TN) ENR #222
GEI Consultants (Woburn, MA) ENR #102
Ghafari Associates (Dearborn, MI) ENR #100
GRAEF (Milwaukee, WI) ENR #386
Guernsey (Oklahoma City, OK) ENR #383
H.W. Lochner (Chicago, IL) ENR #256
Maser Consulting, PA (Red Bank, NJ) ENR #131
NV5 (Hollywood, FL) ENR #54
Power Engineers (Hailey, ID) ENR #42
RDK Engineers (Andover, MA) ENR #366
S&ME, Inc. (Raleigh, NC) ENR #83
Simpson Gumpertz & Heger (Waltham, MA) ENR #114
Smith Seckman Reid (Nashville,TN) ENR #213
Syska Hennessy Group (New York, NY) ENR #146
Terracon Consultants, Inc. (Olathe, KS) ENR #30
Thomas & Hutton (Savannah, GA)
Tighe & Bond (Westfield, MA) ENR #260,
VOA Associates, Inc. (Chicago, IL) ENR #181
Weston & Sampson Engineers (Peabody, MA) ENR #165
Woodard & Curran (Portland, ME) ENR #74
Woolpert, Inc. (Dayton, OH) ENR #110
What People Say
"Terrific program, well worth the time. Learned more than I expected, and more than I usually do at conferences."

Kurt Rockstroh

President/CEO, SBA Global

"The A/E CEO Event at Fenway Park was well worth my time. Morrissey Goodale created an environment that let us talk about critical issues facing our businesses in a very open and honest way. It's not often that a group of CEOs open up. I found the interaction refreshing and I feel we all walked away better for the engagement."

Robert Scaer

Chairman & CEO, Gannett Fleming, Inc.

"This was a relaxing and open environment for CEOs of firms large and small to get together and discuss common challenges and opportunities they each confront. The number of attendees, the setting and facilitation made for some great, candid conversation—great job."

Chuck Padera

President/CEO, Kleinschmidt Associates

"Having attended two A/E CEO Events with Morrissey Goodale, I have most appreciated the opportunity to have a dialog with CEO peers around the strategic challenges facing our business. Morrissey Goodale does a great job of getting the right people in the room and leading us through a structured and focused dialog around the most important issues."

Doug Jaeger

President/CEO, Ulteig Engineers

"A one-of-a-kind opportunity to attend a 'think tank' with other like-minded CEOs in the A/E industry. An invaluable experience!"

Despina Samiotes

CEO, Samiotes Consultants, Inc.

"The material was so in-depth, so informative, that it made me think more in-depth about our situation and where we are headed."

John Kissinger

President & CEO, GRAEF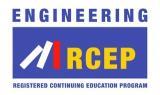 ENGINEERING REGISTERED CONTINUING EDUCATION PROGRAM
Earn 5.00 Professional Development Hours
Morrissey Goodale has met the standards and requirements of the Registered Continuing Education Program. Credit earned on completion of this program will be reported to RCEP. Certificates of Completion will be issued to all participants. Complaints regarding registered providers may be sent to RCEP at www.RCEP.net.