GET BETTER!
Morrissey Goodale can help you prepare your firm's leadership for an increasingly complex business world with a variety of customized services. Take a look… Find Out More >

Study: Uncommon Names Make for Unconventional Leaders
The name game. "What's in a name? That which we call a rose by any other name would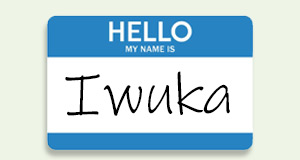 smell as sweet," penned William Shakespeare in Romeo and Juliet. Having spent little time in the boardroom, though, the Bard might be surprised to learn that a recent study by business school professors at Arizona State and Rice Universities found a systemic link between uncommon names of CEOs and unconventional strategies adopted by their firms.
Not your average Joes. The study, first published in the Strategic Management Journal in August 2020, found that "CEOs with more uncommon names tend to pursue strategies that deviate more from their peer firms." Controlling for numerous factors including ethnicity and country of birth, the researchers analyzed data on more than 1,110 public firms over a 19-year span and discovered that the more unique a CEO's name, the more distinctive the strategy he or she pursued. 
Early onset. According to the study, psychological research has established that people with unusual names at an early age "tend to have a self-conception of being different from their peers" and that "successful professionals who have uncommon names tend to view themselves as more special, unique, interesting and creative." Researcher David Zhu of Arizona State University told Harvard Business Review, "Uncommonly named CEOs might be more receptive to creative ideas from employees and to product and process improvements."
Name check. The researchers suggested that the appointment of a CEO with an uncommon name could aid firms looking to chart a different course from the competition—and that the flip would also be true. CEOs with more common names could assist firms that have taken an approach that is too unconventional. Zhu told Harvard Busines Review that firms should consider employee names when grooming future leaders. "If they anticipate that the company will need some major changes in the next 10 years, giving people with unconventional names more development opportunities could be a smart move."

The Changing Climate for Air Travel
Making change. While the coronavirus pandemic is expected to leave a permanent mark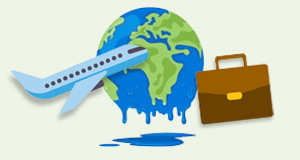 on corporate air travel, a further shakeup could be coming due to aviation's contribution to climate change. With an increasing number of companies committing to reduce their carbon footprints in coming years, air travel is a natural target. Research has found that corporate air travel accounts for as much as 4% of U.S. greenhouse gas emissions. Business leaders who were already re-assessing the necessity of business travel in the pandemic's wake are expected to increasingly take the environmental cost of air travel into consideration along with the time and expense. 
Internal affairs. With video calls proving to be perfectly workable alternatives for corporate meetings and training during the pandemic, intra-company air travel is expected to see the steepest cut going forward. A December 2020 analysis by the Wall Street Journal projected that intra-company trips, which account for one-fifth of all business travel, will experience a reduction between 40% and 60%. 
Hubba hubba. Travel industry news site Skift.com reported in June 2021 that "climate change, rather than the pandemic, will drive the latest business travel trend tipped for next year—the cluster meeting." Instead of having employees fly into corporate headquarters, firms that hold cluster meetings will gather in centralized hub locations that result in the lowest possible carbon emissions. Travel technology companies such as Troop and Thrust Carbon have developed calculators to compute the expense, travel times, and carbon emissions of various hub locations to find the best options.
Face time. How environmental concerns might impact corporate air travel for client development purposes is less clear, particularly for sectors such as the AEC industry that are dependent on client relationships. The Wall Street Journal estimates client development trips, conventions, and trade shows account for two-thirds of all business travel. The newspaper reported that investment bankers were among the first to return to the skies out of fear of losing business to competitors meeting prospective clients face-to-face. When JPMorgan Chase's head of North America investment banking held a contest in June to encourage face-to-face meetings, the bank recorded more than 1,000 in-person meetings for the month. 

From To-Do to Got-Done
Great expectations. The to-do list may be a time-management mainstay, but it can often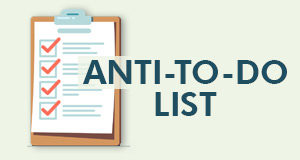 spark feelings of discouragement rather than satisfaction. Rarely blank at the end of a workday, the to-do list can become a depressing recap of what didn't get done that day instead of an inspiring summary of completed tasks. 
Sense of accomplishment. A simple counterstrategy to the conventional to-do list is the got-done list. In his book Four Thousand Weeks: Time Management for Mortals, psychology writer Oliver Burkeman recommends a "have done list," which begins empty each morning and then is added to throughout the day with accomplished tasks. It counters one of the to-do list's greatest deficiencies—its failure to account for those inevitable, unplanned fires that ignite during the day and never made it onto the day's to-do list in the first place.
Marvel universe. It's a concept long practiced by Silicon Valley entrepreneur Marc Andreessen, who at the end of each workday writes down his achievements—which he calls an "anti-to-do list"—on a 3×5 index card. "You get that little rush of endorphins that the mouse gets every time he presses the button in his cage and gets a food pellet," he explains. Andreessen encourages others to use the card to "marvel at all the things you actually got done that day."
Tiny victories. The motivational promise of a got-done list is based on "the power of small wins," which Teresa Amabile and Steven Kramer wrote about in a 2011 Harvard Business Review article. The pair, who analyzed diaries kept by knowledge workers, wrote that while it's natural to focus on long-term goals, those major triumphs are relatively rare. "The good news," they wrote, "is that even small wins can boost inner work life tremendously. Many of the progress events our research participants reported represented only minor steps forward. Yet they often evoked outsize positive reactions."
AEC Industry Events
Morrissey Goodale Events
Morrissey Goodale's AEC event attendees have the chance to learn proven strategies and tactics, recharge their batteries, network with their peers, and return to the office with new ideas and best practices for leading their firms into the future.
If you're a Texas A/E or environmental consulting firm leader—or if your firm wants to grow in the Texas market—then this event is for you.
Texas M&A Symposium 2021
October 21-22, 2021
Houston, TX
If you are an A/E firm leader interested in expanding into the Southeast through acquisition, or you are based in the Southeast and considering a sale or merger, this is the event for you.
Southeast States M&A Symposium 2022
January 19-20, 2022
Miami, FL
THE event for Western states firm leaders considering a sale or merger and leaders of A/E firms looking to grow through acquisition in the West.
Western States M&A Symposium 2022
June 8-9, 2022
San Francisco, CA